Breathtaking HDR Entertainment for the Ultimate Video Enjoyment
The EW277HDR showcases High Dynamic Range for dazzling brightness with stark contrast for deep blacks and wide color range for intense video performance.
Elegant Ultra Slim Design with Powerful Functionality
The EW277HDR brings HDR together with Brightness Intelligence Plus Technology (B.I. Tech.) to gently soften bright areas while keeping dark details crystal clear. EW277HDR's simple hotkey switches between 4 levels of HDR and B.I. + modes to balance maximum contrast and vibrancy and fully enjoy the splendid image performance of HDR while maintaining your viewing comfort.
Indulge in the Video Performance of Amazing Details
Breakthrough Video Quality for Hyper-Realistic Entertainment
Featuring the leading HDR technology in a video enjoyment monitor, EW277HDR offers enhanced brightness and contrast and brings incredible details and vividity to HDR video content
FHD HDR Support for Brilliant Brightness and Deep Contrast
High Dynamic Range (HDR) and Cinema HDR Mode increase the overall dynamic range between true blacks and bright white to resemble what your eyes see in the natural world.
* To view HDR content, please use the provided HDMI cable, a high-speed HDMI cable, or premium high-speed HDMI certified cable.
* HDR function support HDR 10 content.
* For Non-HDR content, user can also activate HDR mode.EL2870U will provide emulated HDR performance for better viewing experience.
3000:1 Ultra-High Native Contrast for Depth and Definition
Ultra-high 3000:1 native contrast, 3x higher than normal panels, adds stunning color depth and detail to dark images with exquisite subtlety and clarity.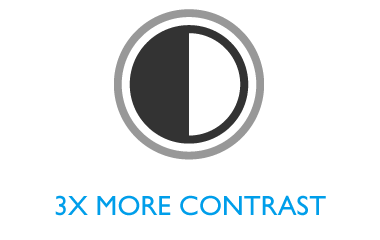 Brightness Enhancement Technology to Boost Contrast Levels
Under HDR mode, BenQ's exclusive Brightness Enhancement delivers unprecedented visual quality by increasing luminance up to 33% for significantly higher contrast performance.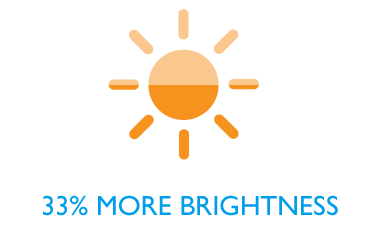 93% DCI-P3 Coverage for Authentic Digital Cinema Color
The EW277HDRcovers 100% of Rec. 709 and 93% of DCI-P3 standards to ensure HDTV and Digital Cinema accuracy to match your defined authentic colors.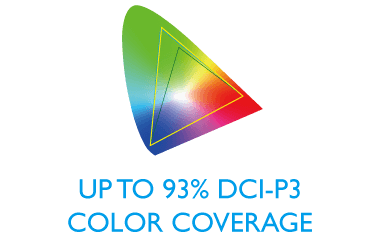 Universal Multi-Device Connectivity and Integrated Speakers
Enjoy expanded flexibility and superb HDR video quality from any source with one VGA and Dual HDMI 2.0 ports while being immersed in powerful integrated audio.
Specialized Modes for the Ultimate Video Entertainment
Super Resolution to Enhance Standard Image Quality
EW277HDR simulates high-resolution picture quality by increasing pixel density of low-resolution standard-definition content for astounding clarity.
Smart Focus to Bring Important Details to Life
Smart Focus highlights the selected windows or area, helping users concentrate on the main viewing content by reducing distractions in the background.
Caring for Your Eyes
Industry-Leading Eye-Care Technology
BenQ exclusive eye-care technologies reduce eye fatigue for user comfort, enhanced productivity, and workplace safety during extended use.
TÜV Rheinland Certification
Global safety authority TÜV Rheinland certifies the EW277HDR's high Flicker-free, low blue light, and brightness intelligence plus as truly friendly to the human eye.
Brightness Intelligence Plus Technology
Reduce Eye Strain in Any Lighting Environment
Brightness Intelligence Plus Technology detects ambient brightness and color temperature to adjust display settings, with soothing warm white for comfort and cool white for productivity.
Colors Stay Original for Perfect Content
B.I. Tech. adjusts brightness to avoid overexposure and to enhance details in dark areas, preserving original color saturation and hue with smooth gradation.
Low Blue Light Technology
Low Blue Light technology is designed to filter out harmful blue light, effectively diminishing eye fatigue and irritation. Easily switch to one of four preset Low Blue Light modes from the OSD hotkey (Multimedia, Web-surfing, Office, and Reading) and reward your eyes without sacrificing visual enjoyment.
Flicker-free
Upgraded to eliminate flickering at all brightness levels, BenQ monitors effectively reduce eye fatigue for user comfort and enhanced productivity.
Specifications
Product Color
Product Color

Metallic Grey

Panel
LCD Size

27 inches

Aspect Ratio

16:9

Resolution (max.)

1920x1080‎

Display Area

597.6x336.2‎ mm

Pixel Pitch (mm)
.311
Brightness ( typ.)

400 cd/m²

Native Contrast ( typ. )

3000:1

Panel Type

VA

Viewing Angle (L/R;U/D) (CR>=10)

178°/178°

Response Time

4ms GtG

Display Colors

16.7 Million

Color Gamut

93% DCI-P3

Color Bit

10bits

Backlight

LED

Reliability
MTBF(hr, exclude lamp)‎

60,000 Hrs

Lamp Life (hr) min‎

30,000 Hrs

Lamp Life (hr) Typical‎

30,000 Hrs

Audio/Video Inputs/Outputs
Hor. Frequency (KHz)‎

30KHz ~83KHz‎

Ver. Frequency (Hz)‎

50Hz ~76Hz‎

Video Bandwidth (MHZ)‎

205MHz

Speakers

Yes

I/O

VGA

HDMI x2

Dimensions & Weight
Dimensions(H x W x D)

522.2X726.4X215‎ mm

Net Weight

4.3 kg

Gross Weight

6 kg

Power
Power Supply (90~264 AC)‎

Yes

Power Consumption (On mode)‎

<40W‎

Power Consumption (Power saving mode)‎

< 0.5W‎

Power Consumption (Off mode)‎‎

< 0.5W‎

Special Features
Flicker-free Technology

Yes

Dynamic Power Saving (DPS)

Yes

Low Blue Light

Yes

Smart Focus

Yes

AMA

Yes

Super Resolution

Yes

Windows® 7, 8 , 8.1, 10 Compatible

Yes

HDCP

Yes

Color Temperature

Reddish/ Normal/ Bluish/ User mode

OSD Language

18 languages

Brightness Intelligence Plus (B.I. +)

Yes

Tilt (down/up)

-5°/15°

Kensington Lock

Yes

Signal Cables Included

HDMI 1.4 cable (1.5m)
Warranty
Product Color
Product Color

Metallic Grey

Panel
LCD Size

32 inches

Aspect Ratio

16:9

Resolution (max.)

3840x2160

Display Area

698.4x392.85‎ mm

Pixel Pitch (mm)
0.181 (H) x 0.181 (V)‎
Brightness ( typ.)

300 cd/m²

Native Contrast ( typ. )

3000:1

Panel Type

VA

Viewing Angle (L/R;U/D) (CR>=10)

178°/178°

Response Time

1. Panel OD 9ms
2. Scalar OD 4ms (with OD)
(Premium 4 ms / High 8 ms)‎

Display Colors

1.07billion‎

Color Gamut

95% DCI-P3

Color Bit

10bits

Backlight

LED

Reliability
MTBF(hr, exclude lamp)‎

60,000 Hrs

Lamp Life (hr) min‎

30,000 Hrs

Lamp Life (hr) Typical‎

30,000 Hrs

Audio/Video Inputs/Outputs
Hor. Frequency (KHz)‎

30KHz ~135KHz‎

Ver. Frequency (Hz)‎

24Hz ~76Hz‎

Video Bandwidth (MHZ)‎

600MHz

Speakers

2W x2

I/O

USB C(display) / 2xHDMI2.0 / DP1.2 / headphone jack‎

Dimensions & Weight
Dimensions(H x W x D)

522.2X726.4X215‎ mm

Net Weight

7.5 kg

Gross Weight

10.2 kg

Power
Power Supply (90~264 AC)‎

Yes

Power Consumption (On mode)‎

76W

Power Consumption (Power saving mode)‎

< 0.5W‎

Power Consumption (Off mode)‎‎

< 0.5W‎

Special Features
Flicker-free Technology

Yes

Dynamic Power Saving (DPS)

Yes

Low Blue Light

Yes

FreeSync

Yes

Smart Focus

Yes

AMA

Yes

Super Resolution

Yes

Windows® 7, 8 , 8.1, 10 Compatible

Yes

HDCP

Yes

Light Sensor

Yes

Color Temperature

Reddish/ Normal/ Bluish/ User mode

OSD Language

18 languages

Brightness Intelligence Plus (B.I. +)

Yes

Tilt (down/up)

-5°/15°

Kensington Lock

Yes

Signal Cables Included

Type-C ( 1m / 4K+ data), mDPtoDP cable(1.8m), ‎
Downloads
Accessories