Hyper-Realistic Video Quality with Display HDR 400
Featuring the leading HDR technology in a video enjoyment monitor, EX3203R offers enhanced brightness and contrast and adds incredible details and vividness to HDR video contents.

HDR Plus B.I. for Ultra-Fine Details
EX3203R brings HDR together with Brightness Intelligence Plus to gently soften bright areas while keeping dark details crystal clear even in dimly lit environments. By combining HDR with B.I.+ Mode, the details are brilliantly visible even in dark environments while your eyes are protected during gaming or video streaming.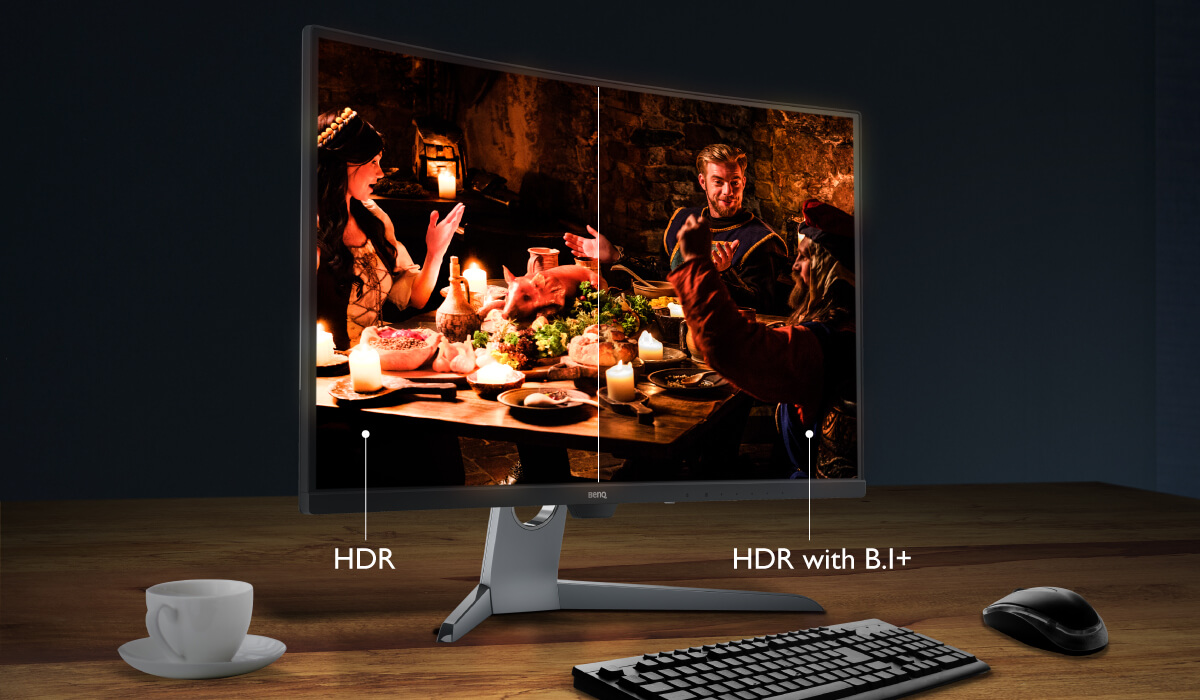 Designed for an Optimal Viewing Experience
Monumental Screen Size with Awe-Inspiring Curvature
Far surpassing mainstream monitors, EX3203R's 32" presence instantly captures your attention and fills your field of vision with the 1800R curvature, an ideally immersive curve ratio for its size.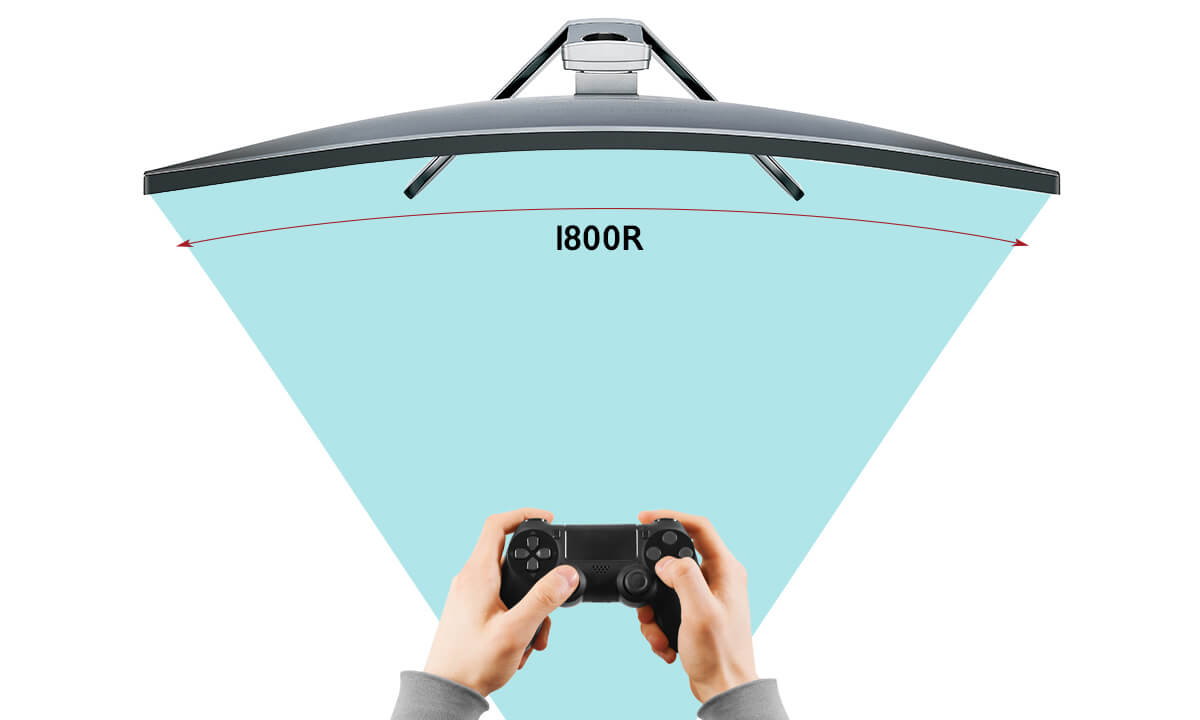 Ultra-Slim Bezel Edge-to-Edge Design for an Expansive View
Incorporating ultra-slim bezels with edge-to-edge panels, you can connect multiple EX3203R to set up seamless vision with limitless perspective.
Take control of your streaming enjoyment with ease
Universal Multi-Platform Connectivity
Comprehensively equipped with multiple HDMI, DisplayPort, and USB 3.1 ports in addition to the USB-C port, EX3203R expertly host multimedia content from a variety of source devices ranging from set-top boxes, Blu-rays, gaming consoles, and smart devices.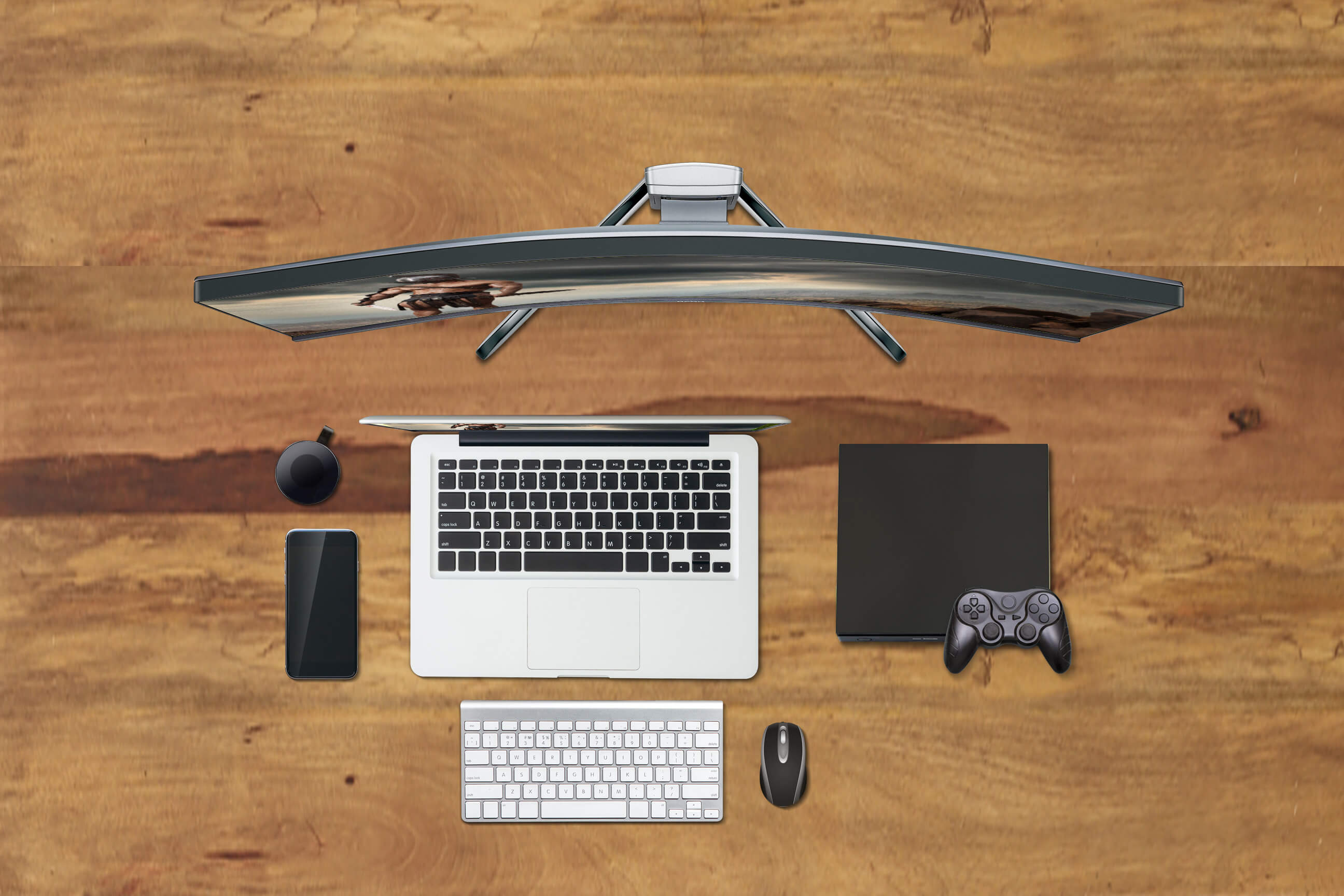 Smoother and Intense Images for Full Gaming Enjoyment
FreeSync™ 2 for Smoother Gaming
FreeSync™ 2 technology offers supremely smooth gaming experiences with the enhanced support of HDR contents. Gamers can fully enjoy the sharpened details and clarity of the HDR games and fluid gaming enjoyment without image tearing, broken frames, and choppy gameplay.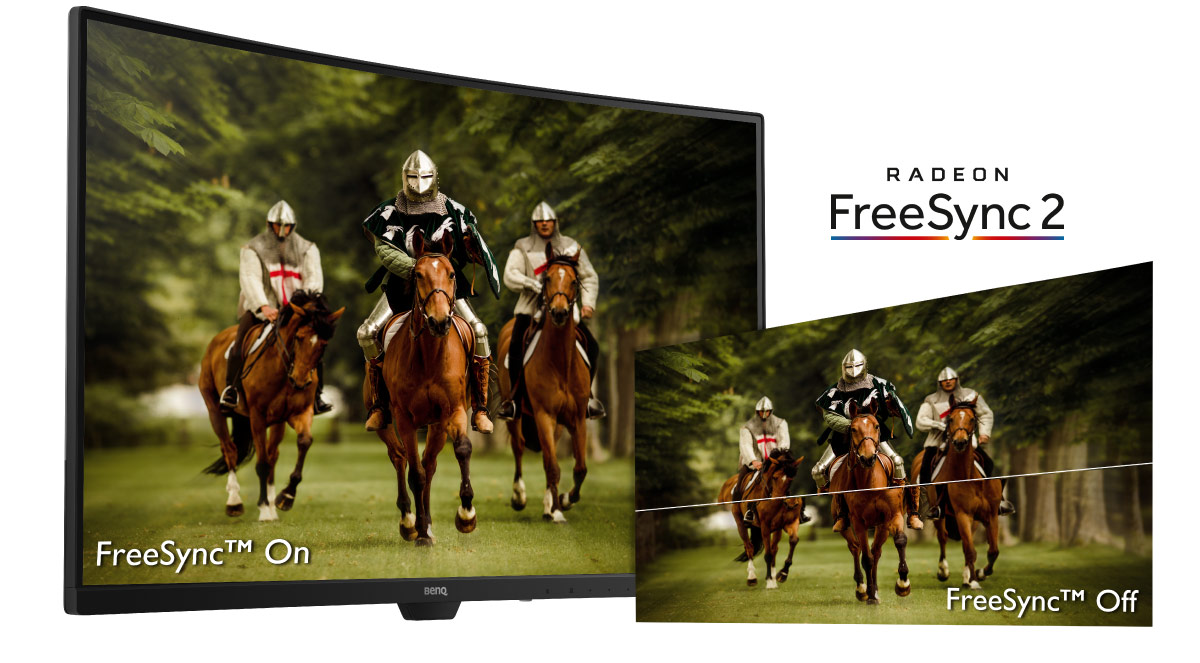 144Hz High Refresh Rate
With 144Hz high refresh rate, EX3203R brings out an ultra-smooth gaming experience.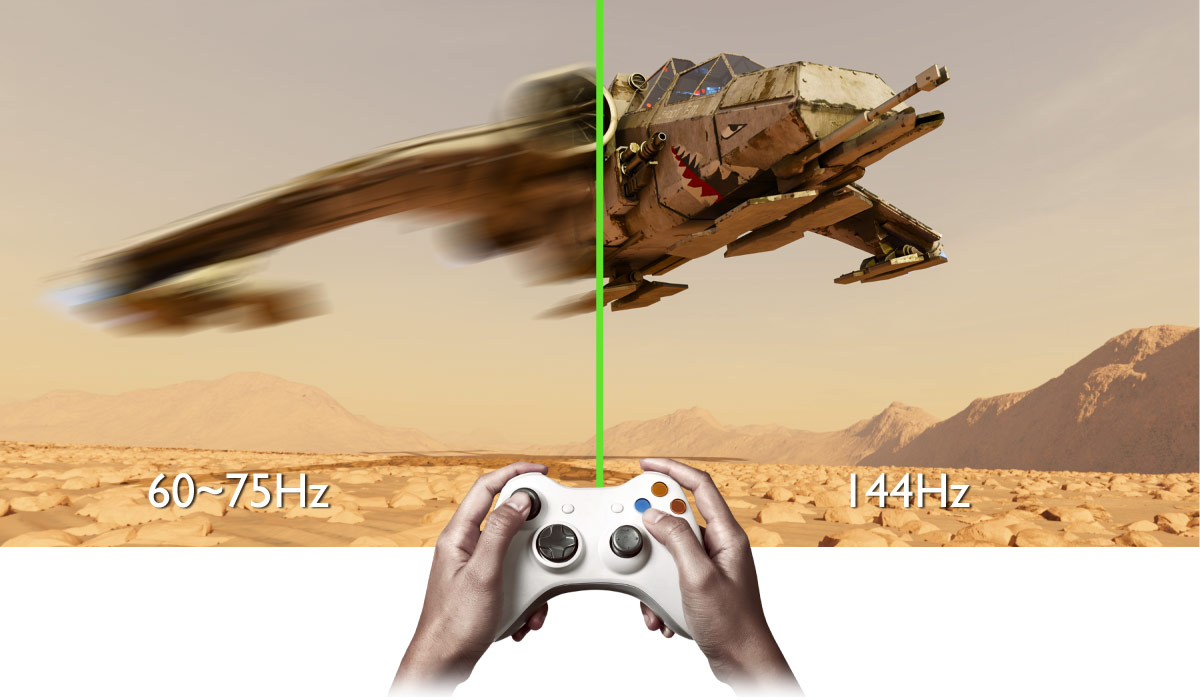 Your Viewing Comfort Matters to Us
Height Adjustment Stand
An extensive range of heights, the adjustable stand allows you to customize your entertainment space for the perfect fit.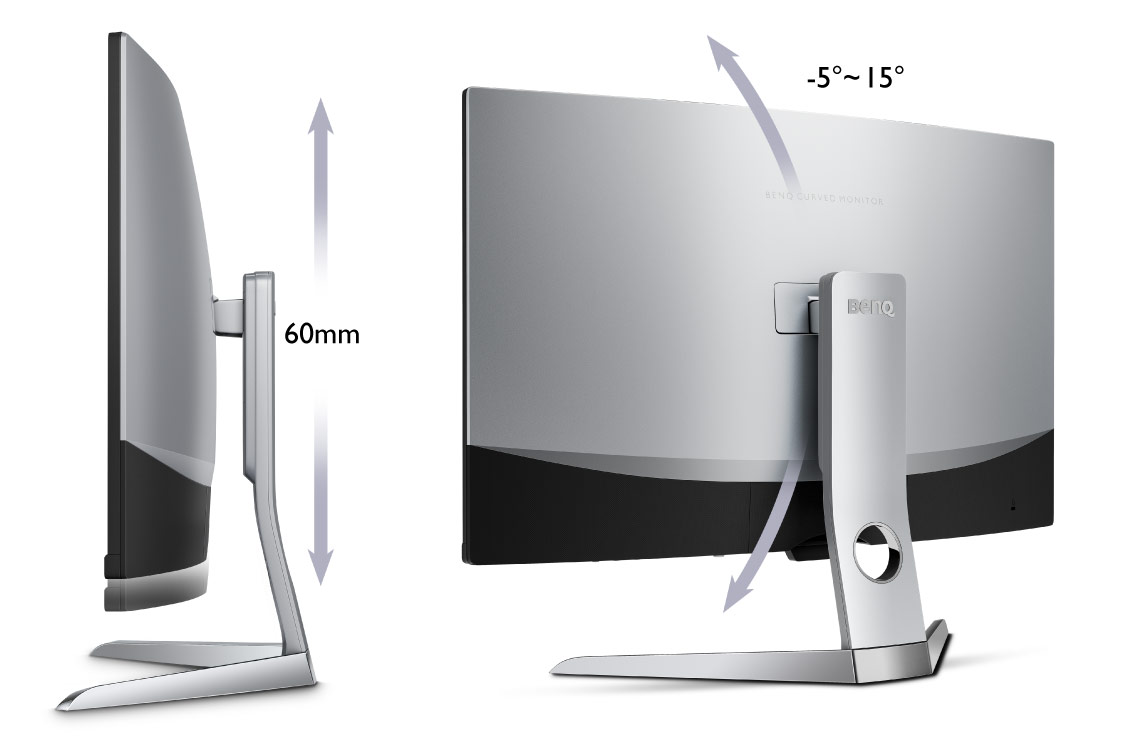 Brightness Intelligence Plus Technology
Reduce Eye Strain in Any Lighting Environment
Reduce Eye Strain in Any Lighting Environment Brightness Intelligence Plus Technology (B.I.+ Tech.) detects ambient brightness and color temperature to adjust display settings, with soothing warm white for comfort and cool white for an extended period of use.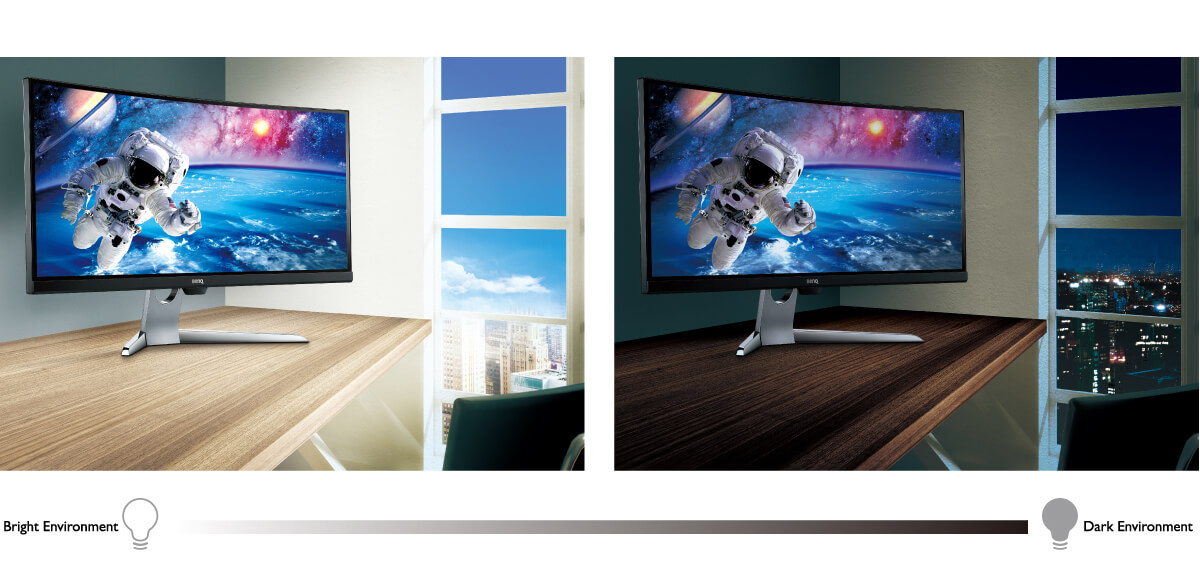 Colors Stay Original for Picture Perfect Content
B.I.+ Tech. adjusts brightness to avoid overexposure and to enhance details in dark areas, preserving original color saturation and hue with smooth gradation.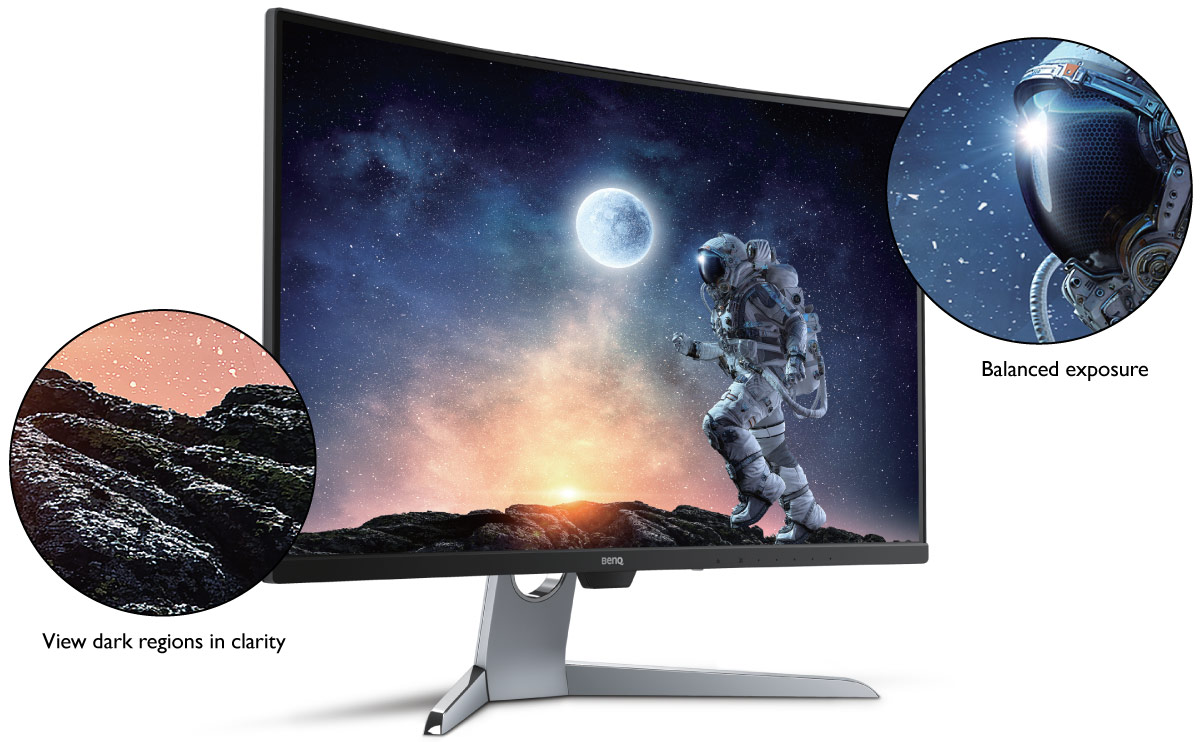 Low Blue Light Technology
Low Blue Light Technology is designed to filter out harmful blue light, effectively diminishing eye fatigue and irritation. Easily switch to one of the four preset Low Blue Light modes from the OSD hot key (Multimedia, Web-surfing, Office, and Reading) and reward your eyes without sacrificing visual enjoyment.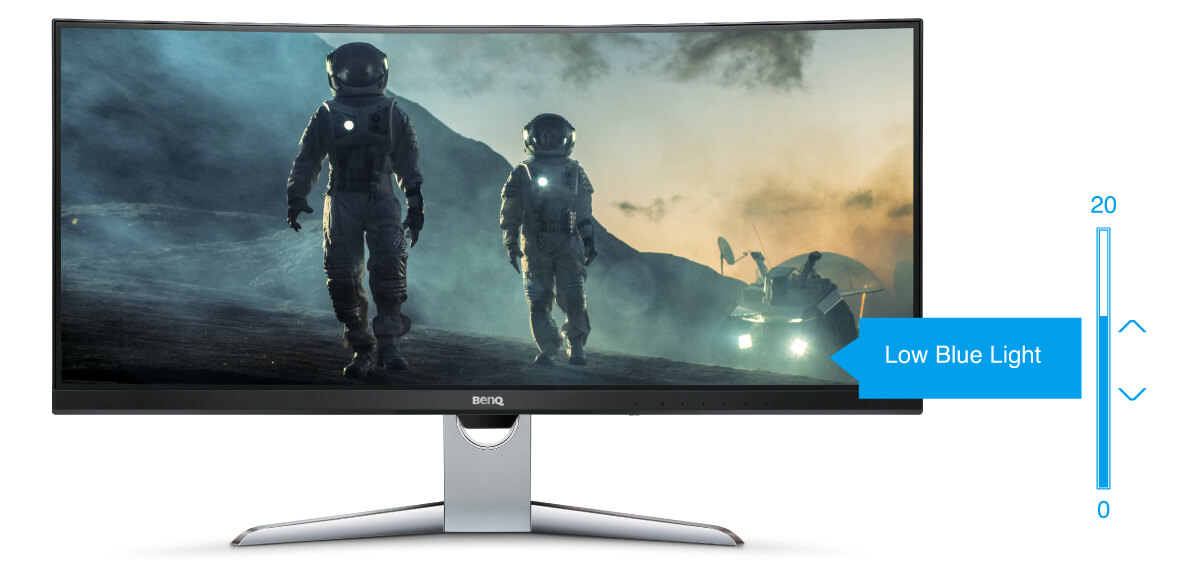 ZeroFlicker Technology
Upgraded to eliminate flickering at all brightness levels, BenQ monitors effectively reduce eye fatigue for user comfort and enhanced productivity.


.
Specifications
Panel
Screen Size

31.5 inches

Panel Type

VA

Backlight Technology

LED

Resolution (max.)

2560x1440

Brightness

300 cd/m²

Native Contrast
3000:1
Viewing Angle (L/R;U/D) (CR>=10)

178/178

Native Contrast ( typ. )

2500:1

Panel Type

VA

Viewing Angle (L/R;U/D) (CR>=10)

178°/178°

Response Time

4ms (GtG)

Refresh Rate

144Hz

Aspect Ratio

16:9

Display Colors

16.7 M

Color Gamut

90% DCI-P3

Display Area(mm)

697.34x392.26 mm

Curvature

1800R

PPI

93

DCR (Dynamic Contrast Ratio) (typ.)

20,000,000 : 1

Color Bit

8 bit

Audio
Headphone Jack

Yes

Monitor
Product Color

Gray

Color Temperature

Reddish/Normal/Bluish/User mode

K Locker

Yes

OSD Language

18 languages (English / Francais / Deutsch / Italiano / Español / Polish / Czech / Hungarian / Serbo-croatian / Romanian / Netherlands / Russian / Swedish / Portuguese Arab / Japanese / Korean/ Chinese / S-Chinese )

HDCP
2.2

VESA Wall Mount

via VESA wall mount transfer kit
AMA
Yes
Eye Care

Flicker-free Technology

Yes

Low Blue Light

Yes

Brightness Intelligence Plus (B.I.+)

Yes

Video Enjoyment
Super Resolution

Yes

Gaming
FreeSync2

Yes

Connectivity
HDMI

HDMI (v2.0)x2

DisplayPort

Yes

USB Type-C

Yes (PD10W, DP Alt mode, Data)
Power
Voltage Rating

100 - 240V

Power Supply

Adapter

Dimension and Weight

Dimensions (HxWxD mm)

536x712.69x223.87 mm

Net Weight (kg)

8.1 kg

13.4 kg

Tilt (down/up)

-5˚ - 20˚
60mm
Certification

Windows® Compatible

Yes
Warranty
BENQ AMERICA CORP. END USER LIMITED WARRANTY
LCD MONITORS


Subject to the terms and conditions set forth below, BenQ America Corp. ("BenQ") warrants the BenQ LCD Monitor ("Product"), you have purchased from BenQ or from a BenQ authorized reseller/retailer to be free from defects in materials or workmanship under normal consumer use during the warranty period in the continental United States, Hawaii, and Alaska. If the Product becomes defective during the warranty period BenQ will, at its option, repair or replace the Product. BenQ may use new or reconditioned components or parts to repair the Product, or replace the Product with a new or reconditioned Product of the same or functionally equivalent model.

BenQ LCD Monitor Standard Limited Warranty: Subject to the exclusions set forth below:
Three (3) year from the purchase date by the original retail purchaser (the "Customer") (except for refurbished units which have a separate warranty policy) parts and labor only (No advance replacement).
Return Merchandise Authorization Shipping: The Customer will pay shipping freight to BenQ or a BenQ Authorized Service Provider and BenQ will pay shipping freight to the Customer during the warranty period.
DOA (Dead On Arrival): Must be reported within thirty (30) days of purchase. An RMA number must be issued in order to process the replacement. BenQ will replace the DOA unit with a brand new replacement. BenQ will cover the freight charges both ways.
Shipping Damages: All shipping damages must be reported within seven (7) business days upon receipt of the Product. BenQ is not responsible for the shipping damages reported after such period.
Repaired or Replaced Parts and Products: All repaired or replaced parts or products shall be warranted only for the remainder of the original warranty period specified above.

Obtaining Depot Warranty Service
If you purchased a BenQ product in the continental United States, Hawaii, and Alaska, you are entitled to depot repair service during the warranty period subject to the following terms and conditions:
Depot warranty service is available for all Products purchased and located in the continental United States, Hawaii, and Alaska.

You must contact BenQ Technical Support Center at 1-866-600-2367.

BenQ or BenQ Technical Support Center will attempt to resolve technical issues over the phone. If telephone resolution is not possible, BenQ or BenQ Customer Service Center will then issue a Return Merchandise Authorization ("RMA") number to be used as a means of identifying the product returned. RMA authorization numbers are valid for thirty (30) days and void thereafter.

You must return the product to BenQ unless otherwise directed by BenQ to a BenQ Authorized Service Provider. You must prepay any shipping charges, export taxes, custom duties and taxes, or any charges associated with transportation of the BenQ product. In addition, you are responsible for insuring any Product shipped or returned and assume the risk of lost packages.

All returned Products must be accompanied with (i) the original shipping and packing materials, (ii) a description of the BenQ product symptom and (iii) proof of the place and date of purchase. The RMA number must be clearly printed on packing slip and on the exterior-shipping container. All Products must be sent in secured packaging to avoid any shipping damages.

BenQ and BenQ Authorized Service Provider reserve the right to refuse and return, freight collect, Products (i) that are not covered by BenQ's warranty; or (ii) for which there is no trouble found. Products delivered to BenQ or a BenQ Authorized Service Provider with an expired RMA may be refused and returned, without prior notice, to the Customer freight collect.

BenQ or BenQ Authorized Service Provider will use its best efforts to service Products within thirty (30) days after receipt of the Products at its warehouse facilities. For return shipments of the Products, except otherwise described herein, BenQ or BenQ Authorized Service Provider will pay the shipping cost and retain risk of loss until delivery to the Customer's location as evidenced by signature collected by carrier. The Customer may designate only one location within the continental United States, Hawaii, and Alaska for return shipments. BenQ and BenQ Authorized Service Provider are not responsible for shipping or other delays beyond their control.




Exclusions
This limited warranty does not extend to any Product not purchased from the BenQ authorized reseller. This limited warranty also does not extend to any product that has been damaged or rendered defective (a) due to normal wear and tear; (b) as a result of use of the Product other than for its normal intended use, or other misuse, abuse or negligence to the Product; (c) by the use of parts not manufactured or sold by BenQ; (d) by modification of the Product; (e) as a result of service by anyone other than BenQ or a BenQ Authorized Service Provider; (f) improper transportation or packing when returning the Product to BenQ or a BenQ Authorized Service Provider; (g) improper installation of third-party products; (h) improper environment (including improper temperature or humidity); (i) unusual physical or electrical stress or interference, failure
or fluctuation of electrical power, lightning, static electricity, fire, or acts of God. BenQ is not responsible for damage to or loss of any programs, data or removable storage media. You are responsible for saving (backing up) any programs, data or removable storage media.

Other Limitations
EXCEPT FOR THE WARRANTIES SET FORTH HEREIN, BenQ DISCLAIMS ALL OTHER WARRANTIES, EXPRESSED OR IMPLIED OR STATUTORY, INCLUDING BUT NOT LIMITED TO THE IMPLIED WARRANTIES OF MERCHANTABILITY OR FITNESS FOR A PARTICULAR PURPOSE. ANY IMPLIED WARRANTIES THAT MAY BE IMPOSED BY APPLICABLE LAW ARE LIMITED TO THE TERMS OF THIS LIMITED WARRANTY. IN NO EVENT SHALL BenQ BE LIABLE FOR ANY INDIRECT, INCIDENTAL, SPECIAL OR CONSEQUENTIAL DAMAGES OF ANY KIND, INCLUDING BUT NOT LIMITED TO LOSS OF BUSINESS, REVENUE, PROFITS, INFORMATION, DATA OR USE, WHETHER IN AN ACTION IN CONTRACT OR TORT OR BASED ON A WARRANTY, ARISING OUT OF OR IN CONNECTION WITH THE USE OR PERFORMANCE OF THE PRODUCT, EVEN IF BenQ HAS BEEN ADVISED OF THE POSSIBILITY OF SUCH DAMAGES. YOU AGREE THAT REPAIR OR REPLACEMENT, AS APPLICABLE, UNDER THE WARRANTY SERVICES DESCRIBED HEREIN IS YOUR SOLE AND EXCLUSIVE REMEDY WITH RESPECT TO ANY BREACH OF THE BenQ LIMITED WARRANTY SET FORTH HEREIN. IF, DESPITE THE FOREGOING LIMITATIONS, FOR ANY REASON BenQ BECOMES LIABLE TO YOU FOR DAMAGES INCURRED BY YOU IN CONNECTION WITH THIS AGREEMENT, THEN, THE LIABILITY OF BenQ WILL BE LIMITED TO THE AMOUNT EQUAL TO THE INVOICE AMOUNT PAID BY YOU TO BenQ OR A BenQ AUTHORIZED RESELLER FOR THE PRODUCT.
All prices, products, terms and conditions are subject to change without notice. Some states or provinces/jurisdictions do not allow the exclusion or limitation of incidental or consequential damages for consumer products, and some states or provinces/jurisdictions do not allow limitations on how long an implied warranty lasts. In such states or provinces/jurisdictions, the exclusions or limitations of this limited warranty may not apply to you. This limited warranty gives you specific legal rights. You may also have other rights that vary from state to state/jurisdiction to jurisdiction. You are advised to consult applicable state and provincial/local laws for a full determination of your rights.

Please call Technical Support Center to report a defective product.
Hours: M-F 8:30am – 5:30pm PST
Phone: 866-600-2367
To avoid delays, please DO NOT SEND ANY BenQ product to BenQ or BenQ Authorized Service Provider without BenQ's authorization.
Downloads
Accessories