Brightness & High Contrast
Clearly a Bright Choice
3,600 lumens of high brightness enable comfortable lights-on presentations to promote discussion, collaboration, and note-taking in small well-lit meeting rooms accommodating up to 10 participants.
High Native Contrast for Superior Image Quality
Powerful 15,000:1 native contrast enabled by state-of-the-art DLP technology and all-glass 5G optical lens systems deliver ultimate clarity, smooth gradational mid-tone color transitions, and razor-sharp scenes.
Crisp Full HD 1080p for Expanded Viewing
Full HD 1080p resolution offers enhanced productivity for professional presentations. The two-megapixel high resolution delivers ultra-sharp readability, enhanced picture detail, and additional presentation real estate for expanded content.
Intelligent Functionality for Intuitive Operation
Multiple HDMI and VGA Inputs for Universal Connectivity
Dual HDMI inputs in addition to dual VGA inputs are purpose-engineered to host multiple presenters and their laptop or mobile devices without taking time to take turns.
Vertical Keystone Correction for Perfectly Aligned Images
Countering the trapezoid effect when the projector must be placed off-center, such as simple placement on top of a table, the vertical keystone function adjusts the image for a perfectly squared image. Keystone correction makes it simple to project ideally aligned images from a variety of locations.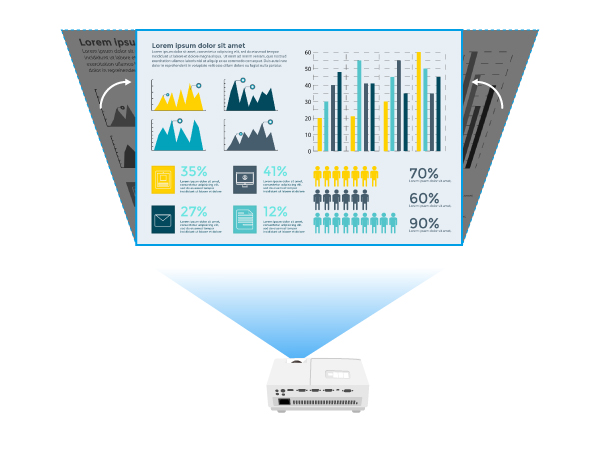 BenQ DLP ® Projectors
Convenient Outer Adjustment Feet
Far superior to projectors with only one adjustment foot, the triple adjustment feet significantly enhance flexibility in a wide variety of meeting rooms, with the additional feet placed in the corners or the projector to facilitate easy movement.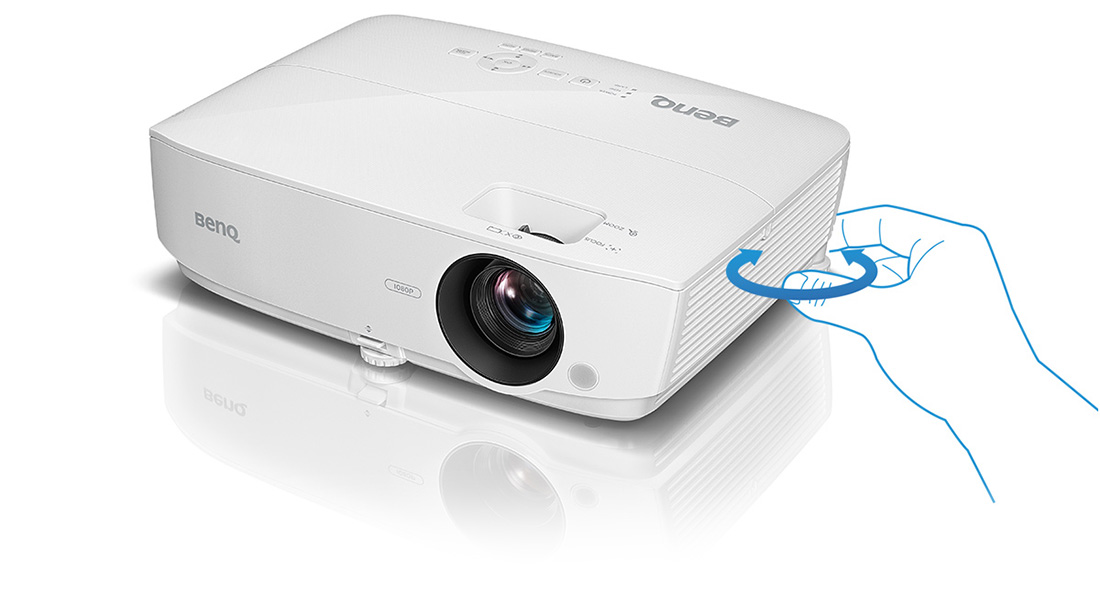 Easy-Access Top Lamp Door for Efficient Replacement
Conveniently placed on the top, an easy-to-open lamp door allows fast lamp access, maintenance, and replacement for uninterrupted productivity whether the projector is placed on a table-top or ceiling mounted in meeting rooms. The quick-access lamp door significantly reduces downtime by eliminating the need to uninstall mounted projectors, making lamp changes a quick and simple process.
Kensington Lock to Discourage Theft
Designed for businesses to secure tabletop projectors, the Kensington lock interface provides "physical" security to meeting room projectors. BenQ business projectors are each built with a security bar to deter opportunistic thieves.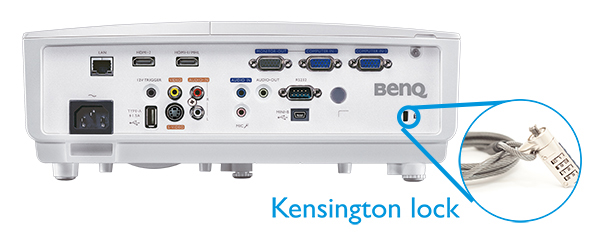 Power Saving, Eco-Friendly Optimization
The BenQ Eco-Cycle System eliminates electricity waste, reduces power-up wait time before and after meetings, and minimizes maintenance for a lower total cost of ownership.
Eco-Cycle System
A. SmartEco™ Mode: SmartEco™ Mode analyzes input content to determine the brightness required for optimal color and contrast performance, conserving up to 70% lamp power while delivering the finest image quality without compromise.
B. Eco Blank Mode: When the projector detects no source content, Eco Blank Mode automatically actives after 3 minutes of inactivity to eliminate distractions and save energy.
C. Auto Power Off: The MH535A powers down after 20 minutes of inactivity to eliminate energy waste and concerns of leaving the equipment on.
Quick Tips: Eco Blank Mode and SmartEco Mode can be activated directly using the remote control.


0.5W in Standby Mode
When inactive, the BenQ MH535A keeps power consumption to a minimum with 0.5W standby power, maximizing energy savings when the projector is connected but not in use.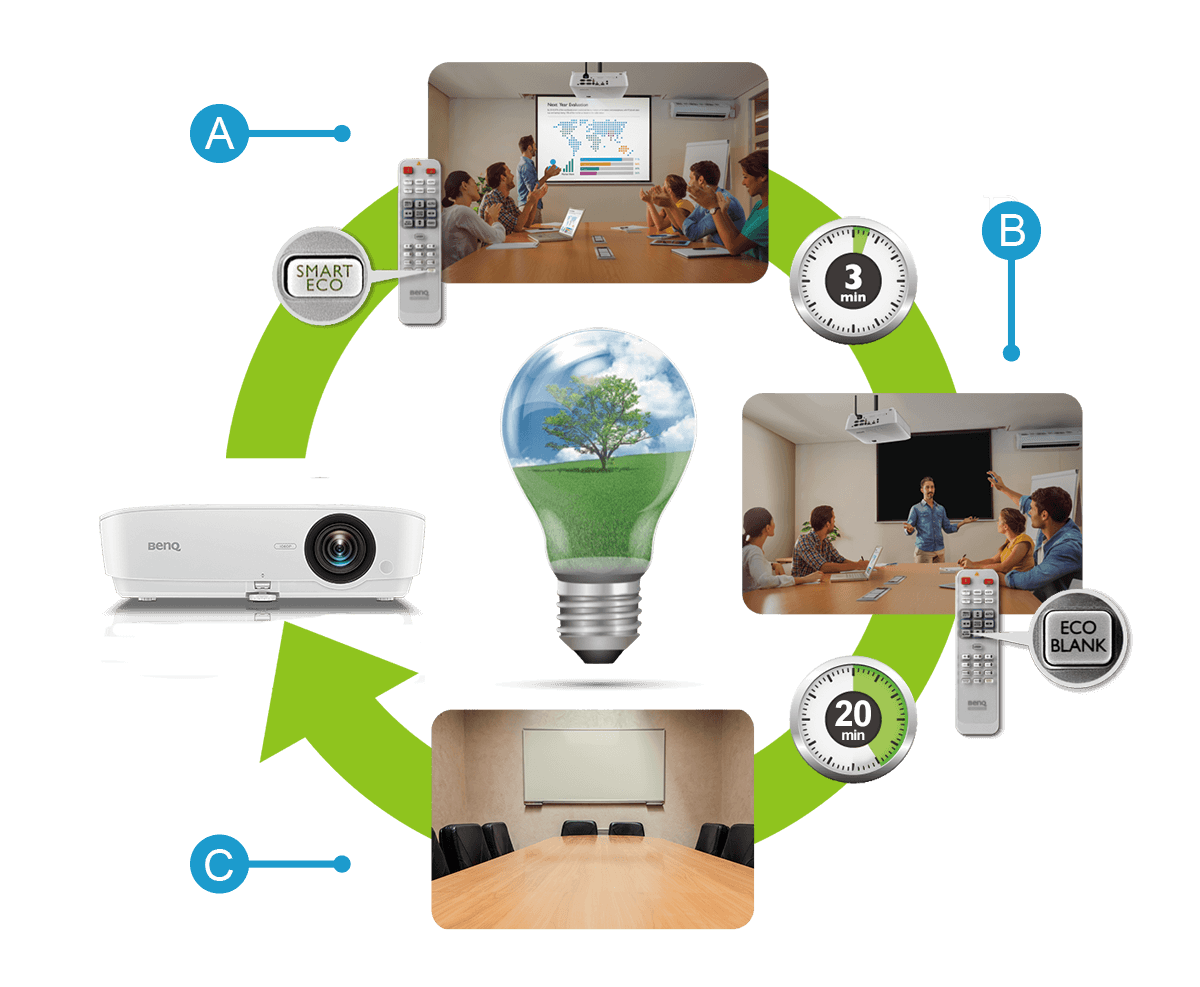 Specifications
Display

Projection System

DLP

Resolution

1080p, 1920 x 1080

Resolution Support

VGA(640 x 480) to WUXGA_RB(1920 x 1200)

*RB-Reduced Blanking

Brightness (ANSI lumens)

3600

Contrast Ratio (FOFO)

15000:1

Display Color

30 Bits (1,07 billion colors)

Native Aspect Ratio

Native 16:9

(5 aspect ratio selectable)

Light Source

Lamp

Light Source Wattage

210W

Light Source life*

5000/10000/15000 hrs (Normal/Eco/SmartEco)

Optical
Throw Ratio


1.37-1.64 (60"@ 1.82m)

Zoom Ratio

1.2X

Lens

(7G all glass optical lens)

F=2.42-2.62

f=19.0-22.65

Keystone Adjustment

1D, Vertical +/- 40 degrees

Projection Offset**

107%±5%

Clear Image Size (Diagonal)


60"~300"

Image Size

30"~300"

Horizontal Frequency
15K~102KHz
Vertical Scan Rate
23~120KHz
Interface
PC (D-sub)
2

Monitor out (D-sub 15pin)

1

S-Video in (Mini DIN 4pin)

1

Composite Video in (RCA)

1

HDMI

2 (1.4a)

USB Type Mini B

1 (Download & Page up/down)

Audio in (3.5mm Mini Jack)

1

Audio out (3.5mm Mini Jack)

1

RS232 (DB-9pin)

1

IR Receiver

1 (Front)

Security Bar

1
Compatibility
HDTV Compatibility

480i, 480p, 576i, 576p, 720p, 1080i, 1080p

NTSC, PAL, SECAM

Power

Power Supply

AC 100 to 240 V, 50/60 Hz

Typical Power Consumption

252W (Normal)

Standby Power Consumption
<0.5W
Acoustic Noise (Typ./Eco.)
32/29 dB, C sku: <36dB follow CECP
Operating Temperature
0~40℃

Dimension and Weight

Dimensions (W x H x D mm)

332.4 x 241.3 x 99

Net Weight (kg)

2.42kg (5.24lb)

Accessories (Standard)

Carton

Brown Carton, Hand Carry Type

Remote Control w/ Battery

1 (RCX013)

Power Cord (by region)

Yes

User Manual CD

Yes

Quick Start Guide

Yes

Warranty Card (by region)
Yes
VGA(D-sub 15pin) Cable
Yes
Accessories (Optional)

Spare Lamp Kit

Yes

Universal Ceiling Mount

Yes

3D Glasses

Yes

OSD

OSD Language

28L
Warranty
BENQ AMERICA CORP. END USER LIMITED WARRANTY
DIGITAL PROJECTORS


Subject to the terms and conditions set forth below, BenQ America Corp. ("BenQ")
warrants the BenQ Digital Projector ("Product") you have purchased from BenQ online
store or from a BenQ authorized retailer in the United States on or after May 1, 2010 to
be free from defects in materials or workmanship under normal consumer use during the
warranty period in the continental United States, Hawaii, and Alaska. If the Product
becomes defective during the warranty period BenQ will, at its option, repair or replace
the Product. BenQ may use new or reconditioned components or parts to repair the
Product, or replace the Product with a new or reconditioned Product of the same or
functionally equivalent model.
BenQ Projector Standard Limited Warranty: Subject to the exclusions set forth
below:
Three (3) years from the purchase date by the original retail purchaser (the "Customer")
(except for lamps as specified below and refurbished units which have a separate
warranty policy), parts and labor only (No advance replacement).

Lamp Warranty: Pre-installed Lamps on new units have a 1 Year or 2,000 hours warranty from the purchase date
by the Customer, whichever comes first.

Return Merchandise Authorization Shipping: The Customer will pay shipping
freight to BenQ or a BenQ Authorized Service Provider and BenQ will pay shipping
freight to the Customer during the warranty period.

DOA (Dead On Arrival): Must be reported within thirty (30) days of purchase. An
RMA number must be issued in order to process the replacement. BenQ will replace
the DOA unit with a brand new replacement. BenQ will cover the freight charges
both ways.

Shipping Damages: All shipping damages must be reported within seven (7)
business days upon receipt of the Product. BenQ is not responsible for the shipping
damages reported after such period.

Repaired or Replaced Parts and Products: All repaired or replaced parts or
products shall be warranted only for the remainder of the original warranty period
specified above.

Obtaining Depot Warranty Service
If you purchased a BenQ product in the continental United States, Hawaii, and Alaska,
you are entitled to depot repair service during the warranty period subject to the
following terms and conditions:

1. Depot warranty service is available for all Products purchased and located in the
continental United States, Hawaii, and Alaska.

2. You must contact BenQ Technical Support Center at 1-866-600-2367.

3. BenQ or BenQ Technical Support Center will attempt to resolve technical issues over
the phone. If telephone resolution is not possible, BenQ or BenQ Customer Service
Center will then issue a Return Merchandise Authorization ("RMA") number to be used
as a means of identifying the product returned. RMA authorization numbers are valid for
thirty (30) days and void thereafter

4. You must return the product to BenQ unless otherwise directed by BenQ to a BenQ
Authorized Service Provider. You must prepay any shipping charges, export taxes,
custom duties and taxes, or any charges associated with transportation of the BenQ
product. In addition, you are responsible for insuring any Product shipped or returned and
assume the risk of lost packages.

5. All returned Products must be accompanied with (i) the original shipping and packing
materials, (ii) a description of the BenQ product symptom and (iii) proof of the place and
date of purchase. The RMA number must be clearly printed on packing slip and on the
exterior-shipping container. All Products must be sent in secured packaging to avoid any
shipping damages.

6. BenQ and BenQ Authorized Service Provider reserve the right to refuse and return,
freight collect, Products (i) that are not covered by BenQ's warranty; or (ii) for which
there is no trouble found. Products delivered to BenQ or a BenQ Authorized Service
Provider with an expired RMA may be refused and returned, without prior notice, to the
Customer freight collect.

7. BenQ or BenQ Authorized Service Provider will use its best efforts to service Products
within thirty (30) days after receipt of the Products at its warehouse facilities. For return
shipments of the Products, except otherwise described herein, BenQ or BenQ Authorized
Service Provider will pay the shipping cost and retain risk of loss until delivery to the
Customer's location as evidenced by signature collected by carrier. The Customer may
designate only one location within the continental United States, Hawaii, and Alaska for
return shipments. BenQ and BenQ Authorized Service Provider are not responsible for
shipping or other delays beyond their control.

Exclusions
This limited warranty does not extend to any Product not purchased from the BenQ
authorized reseller. This limited warranty also does not extend to any product that has
been damaged or rendered defective (a) due to normal wear and tear; (b) as a result of use
of the Product other than for its normal intended use, or other misuse, abuse or
negligence to the Product; (c) by the use of parts not manufactured or sold by BenQ; (d)
by modification of the Product; (e) as a result of service by anyone other than BenQ or a
BenQ Authorized Service Provider; (f) improper transportation or packing when
returning the Product to BenQ or a BenQ Authorized Service Provider; (g) improper
installation of third-party products; (h) improper environment (including improper
temperature or humidity); (i) unusual physical or electrical stress or interference, failure
or fluctuation of electrical power, lightning, static electricity, fire, or acts of God. BenQ is
not responsible for damage to or loss of any programs, data or removable storage media.
You are responsible for saving (backing up) any programs, data or removable storage
media.

Other Limitations

EXCEPT FOR THE WARRANTIES SET FORTH HEREIN, BenQ DISCLAIMS ALL
OTHER WARRANTIES, EXPRESSED OR IMPLIED OR STATUTORY,
INCLUDING BUT NOT LIMITED TO THE IMPLIED WARRANTIES OF
MERCHANTABILITY OR FITNESS FOR A PARTICULAR PURPOSE. ANY
IMPLIED WARRANTIES THAT MAY BE IMPOSED BY APPLICABLE LAW ARE
LIMITED TO THE TERMS OF THIS LIMITED WARRANTY. IN NO EVENT
SHALL BenQ BE LIABLE FOR ANY INDIRECT, INCIDENTAL, SPECIAL OR
CONSEQUENTIAL DAMAGES OF ANY KIND, INCLUDING BUT NOT LIMITED
TO LOSS OF BUSINESS, REVENUE, PROFITS, INFORMATION, DATA OR USE,
WHETHER IN AN ACTION IN CONTRACT OR TORT OR BASED ON A
WARRANTY, ARISING OUT OF OR IN CONNECTION WITH THE USE OR
PERFORMANCE OF THE PRODUCT, EVEN IF BenQ HAS BEEN ADVISED OF
THE POSSIBILITY OF SUCH DAMAGES. YOU AGREE THAT REPAIR OR
REPLACEMENT, AS APPLICABLE, UNDER THE WARRANTY SERVICES
DESCRIBED HEREIN IS YOUR SOLE AND EXCLUSIVE REMEDY WITH
RESPECT TO ANY BREACH OF THE BenQ LIMITED WARRANTY SET FORTH
HEREIN. IF, DESPITE THE FOREGOING LIMITATIONS, FOR ANY REASON
BenQ BECOMES LIABLE TO YOU FOR DAMAGES INCURRED BY YOU IN
CONNECTION WITH THIS AGREEMENT, THEN, THE LIABILITY OF BenQ WILL
BE LIMITED TO THE AMOUNT EQUAL TO THE INVOICE AMOUNT PAID BY
YOU TO BenQ OR A BenQ AUTHORIZED RESELLER FOR THE PRODUCT.

All prices, products, terms and conditions are subject to change without notice. Some
states or provinces/jurisdictions do not allow the exclusion or limitation of incidental or
consequential damages for consumer products, and some states or provinces/jurisdictions
do not allow limitations on how long an implied warranty lasts. In such states or
provinces/jurisdictions, the exclusions or limitations of this limited warranty may not
apply to you. This limited warranty gives you specific legal rights. You may also have
other rights that vary from state to state/jurisdiction to jurisdiction. You are advised to
consult applicable state and provincial/local laws for a full determination of your rights.

Please call Technical Support Center to report a defective product.
Hours: M-F 8:30am – 5:30pm PST
Phone: 866-600-2367

To avoid delays, please DO NOT SEND ANY BenQ product to BenQ or BenQ
Authorized Service Provider without BenQ's authorization.
Downloads