Big, Bright, and Long-Lasting Quality Picture
Made for simple, reliable performance for your home, day in and day out, the BenQ MH535FHD combines bright big-picture quality, intuitive hassle-free operation, and convenient digital connectivity with environmentally conscious power savings and budget-friendly cost.
Brightness & High Contrast
Clearly a Bright Choice
3,600 lumens of high brightness provide comfortable lights-on entertainment in well-lit meeting rooms. The high luminance boosts picture quality with vibrant color for pictures and videos as well as crisp text and fine details.
High Native Contrast for Superior Image Quality
Powerful 15,000:1 native contrast enabled by state-of-the-art DLP technology and all-glass 5G optical lens systems deliver ultimate clarity, smooth gradational mid-tone color transitions, and razor-sharp scenes.
Crisp Full HD 1080p for Expanded Viewing
Full HD 1080p resolution offers enhanced productivity for professional presentations. The two-megapixel high resolution delivers ultra-sharp readability, enhanced picture detail, and additional presentation real estate for expanded content.
Intelligent Functionality for Intuitive Operation
Multiple HDMI and VGA Inputs for Universal Connectivity
Dual HDMI inputs in addition to dual VGA inputs make it easy to connect to your favorite movie, event or game. Multiple, standard inputs make setup less complicated and saves time for your family to get to the fun.
Vertical Keystone Correction for Perfectly Aligned Images
Countering the trapezoid effect when the projector must be placed off-center, such as simple placement on top of a table, the vertical keystone function adjusts the image for a perfectly squared image. Keystone correction makes it simple to project ideally aligned images from a variety of locations.
Designed for Convenient Room-to-Room Portability
A sleek, compact design with a sculptured patterned cabinet resists dirt and fingerprints as the projector is moved from one room to another. The intuitive keypad and remote control layout simplify picture adjustment to the next room you move the projector too.
BenQ DLP ® Projectors
Convenient Outer Adjustment Feet
Far superior to projectors with only one adjustment foot, the triple adjustment feet significantly enhance flexibility in a wide variety of meeting rooms, with the additional feet placed in the corners or the projector to facilitate easy movement.
Quick-Access Top Lamp Door for Efficient Replacement
Conveniently placed on the top, an easy-to-open lamp door allows fast lamp access, maintenance, and replacement for uninterrupted productivity whether the projector is placed on a table-top or ceiling mounted in meeting rooms. The quick-access lamp door significantly reduces downtime by eliminating the need to uninstall mounted projectors, making lamp changes a quick and simple process.
Power Saving, Eco-Friendly Optimization
The BenQ Eco-Cycle System eliminates electricity waste, reduces power-up wait time before and after meetings, and minimizes maintenance for a lower total cost of ownership.
Eco-Cycle System
A. SmartEco™ Mode: SmartEco™ Mode analyzes input content to determine the brightness required for optimal color and contrast performance, conserving up to 70% lamp power while delivering the finest image quality without compromise.
B. Eco Blank Mode: When the projector detects no source content, Eco Blank Mode automatically actives after 3 minutes of inactivity to eliminate distractions and save energy.
C. Auto Power Off: The MH535FHD powers down after 20 minutes of inactivity to eliminate energy waste and concerns of leaving the equipment on.
Quick Tips: Eco Blank Mode and SmartEco Mode can be activated directly using the remote control.


0.5W in Standby Mode
When inactive, the BenQ MH535FHD keeps power consumption to a minimum with 0.5W standby power, maximizing energy savings when the projector is connected but not in use.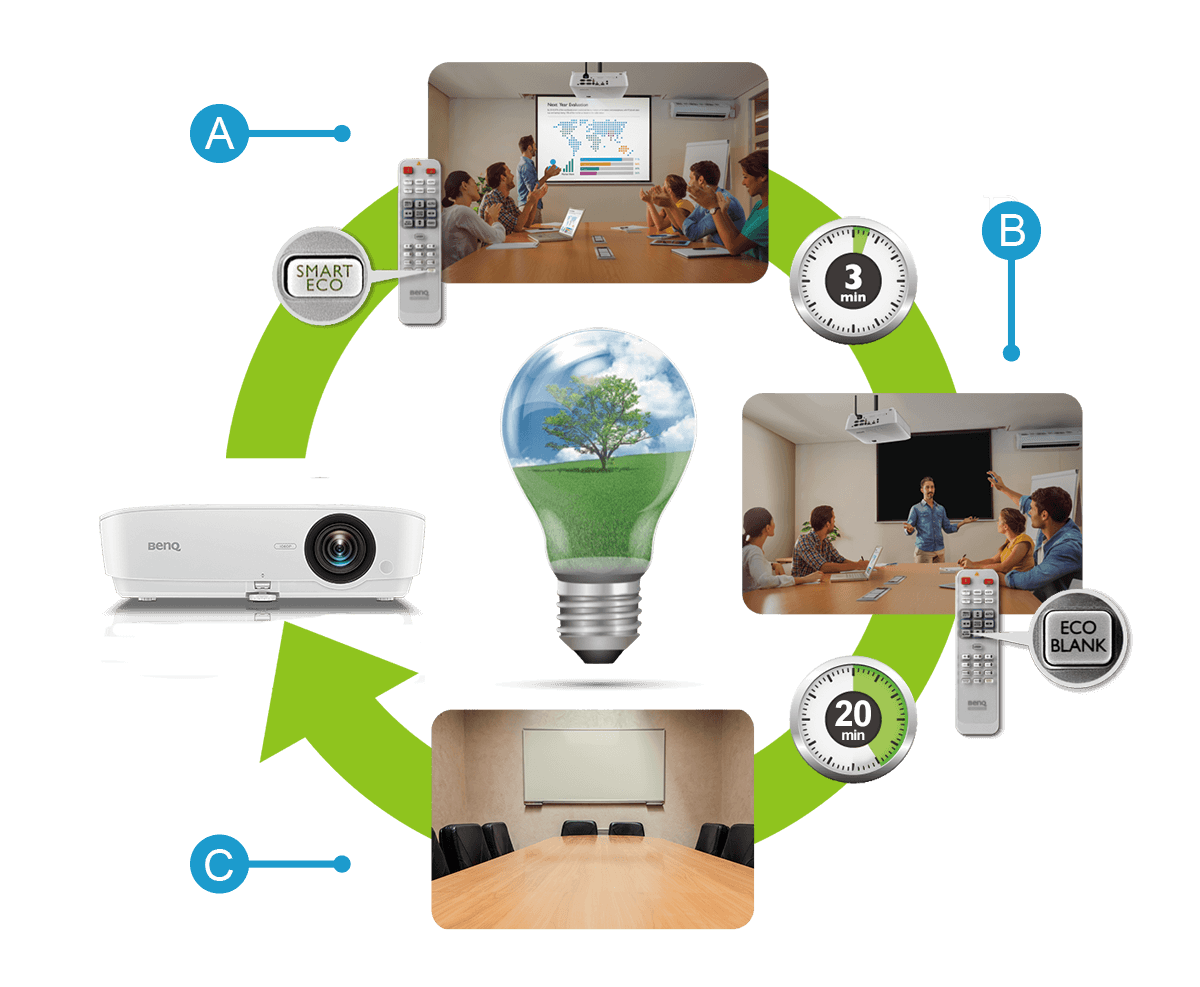 Specifications
One Year Limited Warranty
Warranty
Downloads
Accessories