Accurate Color for Supreme Aesthetic Excellence
The right equipment makes all the difference for professional designers. The BenQ DesignVue PD2700U designer monitor delivers absolute color precision and ultra-high resolution for exceptional work and efficiency. Powered by BenQ's exclusive AQCOLOR™ technology and 4K UHD resolution, PD2700U brings out the clarity and color precision that designers are looking for. Coupled with 3 special modes tailored for different scenarios (CAD/CAM, Darkroom, and Animation mode), PD2700U allows designers in different fields to achieve artistic excellence.
Outstanding Color Accuracy and Resolution
4K UHD High Resolution
4K UHD (3840x2160) resolution offers extraordinary clarity of fine details and depth of subtle textures, making the PD2700U optimized for visually intensive work in animation, visual effects, graphics, and photos.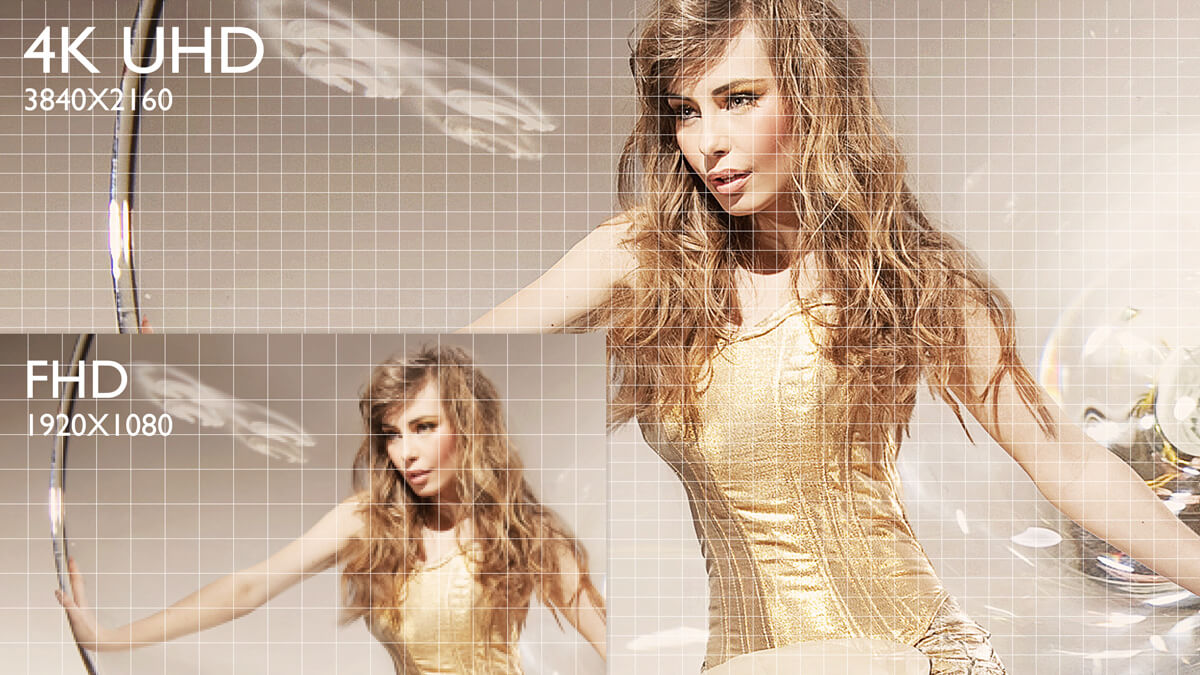 AQCOLOR™ technology to uphold the concept: "Accurate Reproduction"
Devoted to meeting the latest professional color standards, BenQ has developed AQCOLOR™ technology to uphold the concept: "Accurate Reproduction". BenQ has invited a color expert to lead the team and has also actively participated in ICC (International Color Consortium) and ISO (International Standard Organization) to establish color-related standards and implementation.


Reference-Grade Color Performance with 10-Bit, 100% sRGB, and Rec. 709
Covering 100% of sRGB and Rec. 709 color spaces, PD2700U's advanced IPS wide viewing angle technology minimizes color shift to produce incredibly accurate color. 100% sRGB color gamut accuracy adheres to industry standards in digital production, and Rec. 709 reproduces accurate resolution, frame rate, color gamut, gamma, and white point performance in high-definition video work.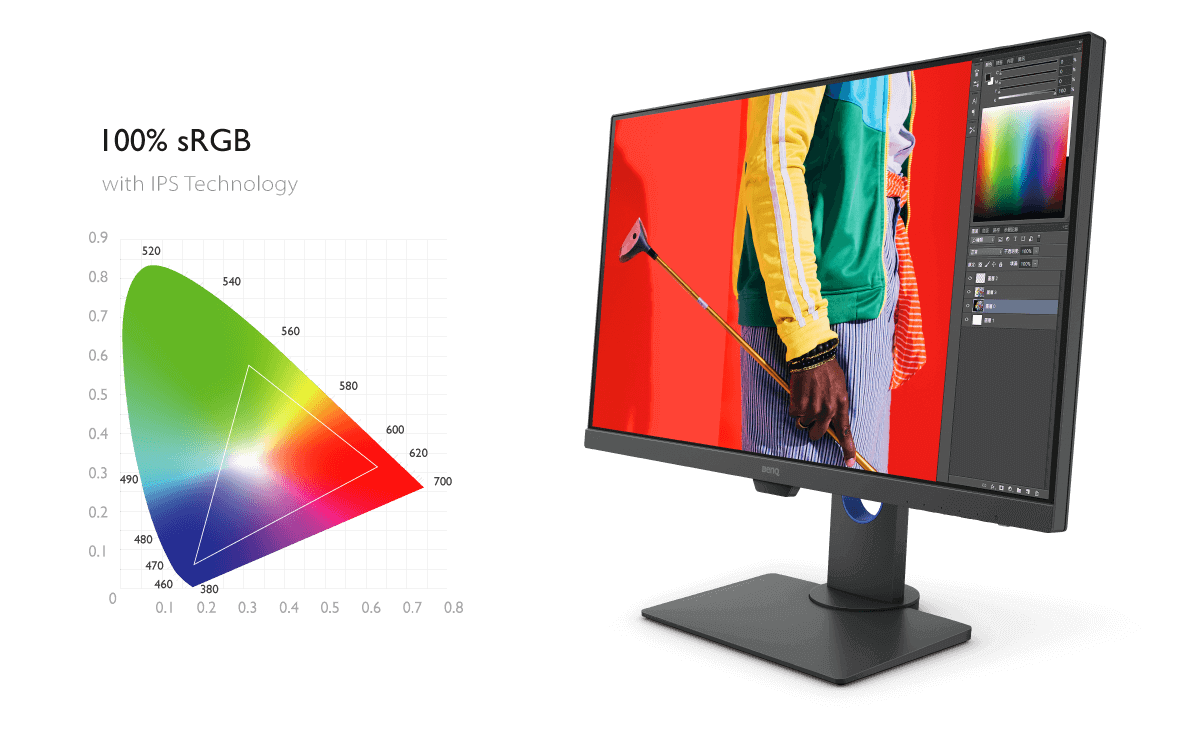 Professionally Factory Calibrated for Supreme Color Accuracy
Each BenQ Designer Monitor is individually factory calibrated upon production to assure precise Delta-E and Gamma performance. Calibration results are validated against industry color standards to deliver the most accurate representative view of the original content.
*Calibration eliminates slight color performance variations between individual panels of the same model. Therefore, the calibration data of each report will vary slightly from reports from other displays of the same model.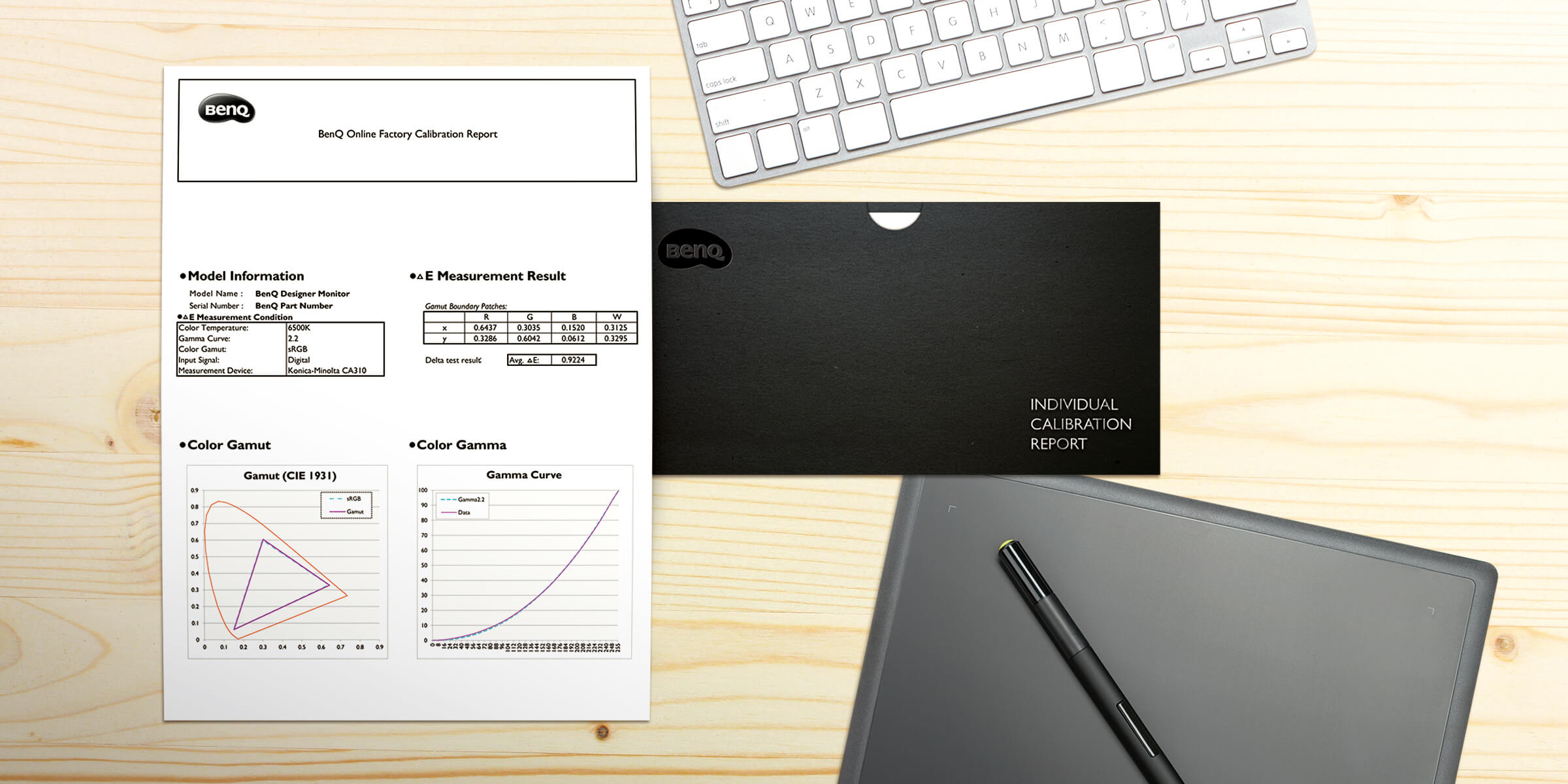 Inspiring Designs Through 4K UHD with HDR10 Support
BenQ's DesignVue PD2700U is equipped with HDR10 (ST2084) technology so designers can preview their work in HDR during the editing process to ensure the perfect final product.
Simple, Functional Design for Increased Efficiency
CAD/CAM Mode
Offering superior contrast for lines and shapes in technical illustrations, CAD/CAM mode accentuates the finest details to produce incredible display performance in Pro/E, SOLIDWORKS, AutoCAD, CATIA, or other design software.
*Calibration eliminates slight color performance variations between individual panels of the same model. Therefore, the calibration data of each report will vary slightly from reports from other displays of the same model.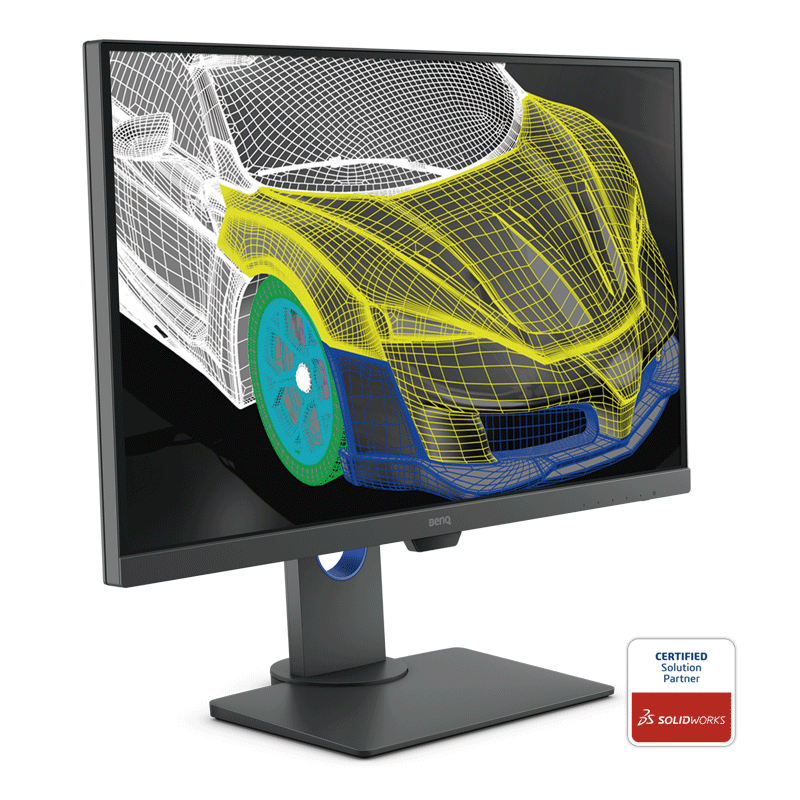 Animation Mode
Dealing with intricate details in dark images is a common issue designers run into. Animation Mode on the PD2700U enhances the brightness of dark areas without overexposing bright regions and provides 10 levels of display brightness to bring out every subtlety clearly in any ambient lighting.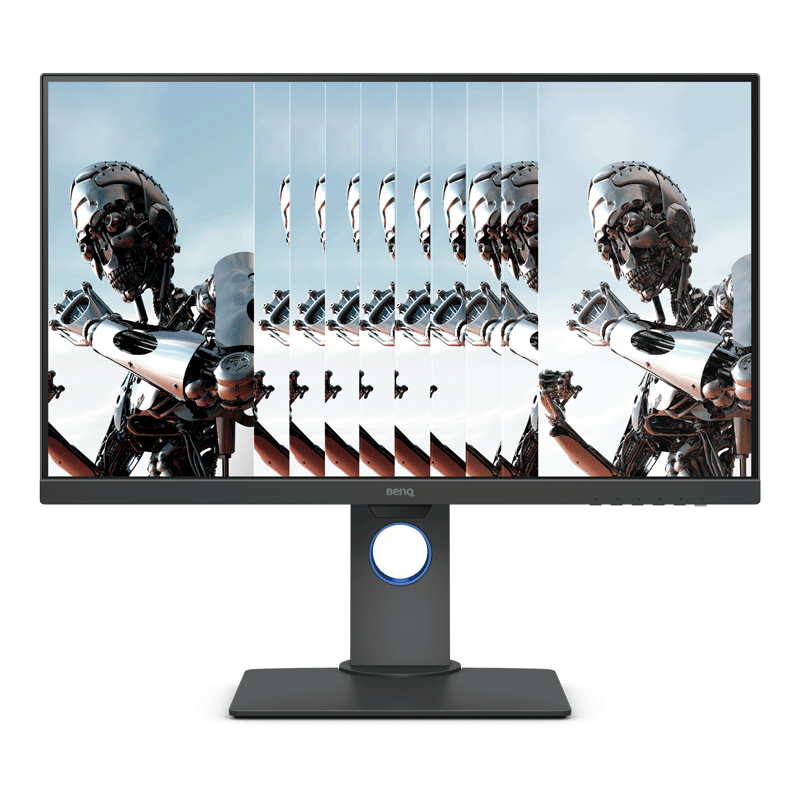 Darkroom Mode
Adjusting image brightness and contrast for superb clarity and sharp details, Darkroom mode creates the optimal setting for work in darkened post-processing environments.
Boosted Efficiency and Productivity
Keyboard Video Mouse (KVM) Switch
KVM Switch function allows users to display and control content from two different PC systems on one screen using just one keyboard and mouse to save space and improve work efficiency.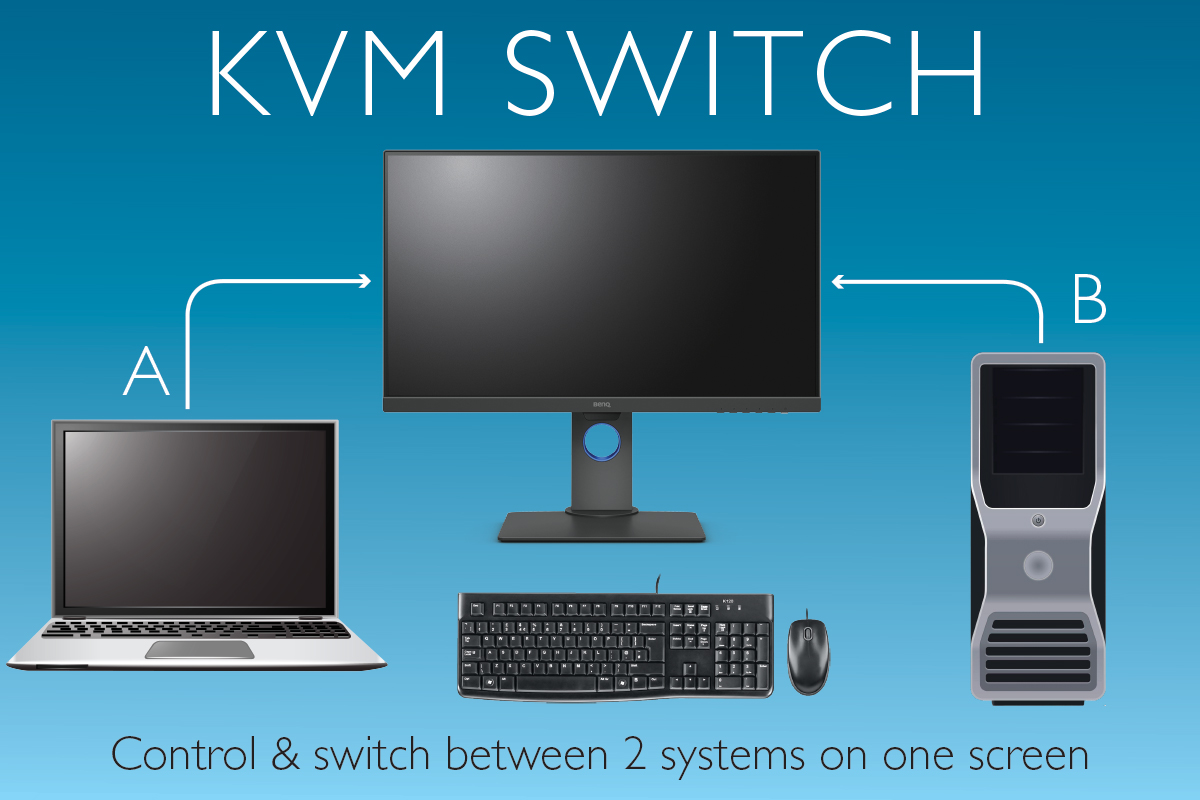 A Daisy-Chain Configuration for Greater Productivity
The BenQ PD2700U is a daisy-chain-enabled* display equipped with multi-stream transport technology (MST), allowing you to extend your notebook's screen across several displays using DisplayPort output for a multiple monitor setup. The ultra-thin bezel on all four sides creates a seamless multi-screen experience.
*Macs newer than 2016 will not support MST
DualView Mode
Improve your workflow and enhance productivity by switching to DualView to showcase designs in two modes simultaneously (e.g. sRGB and CAD/CAM) side-by-side without the need for two screens.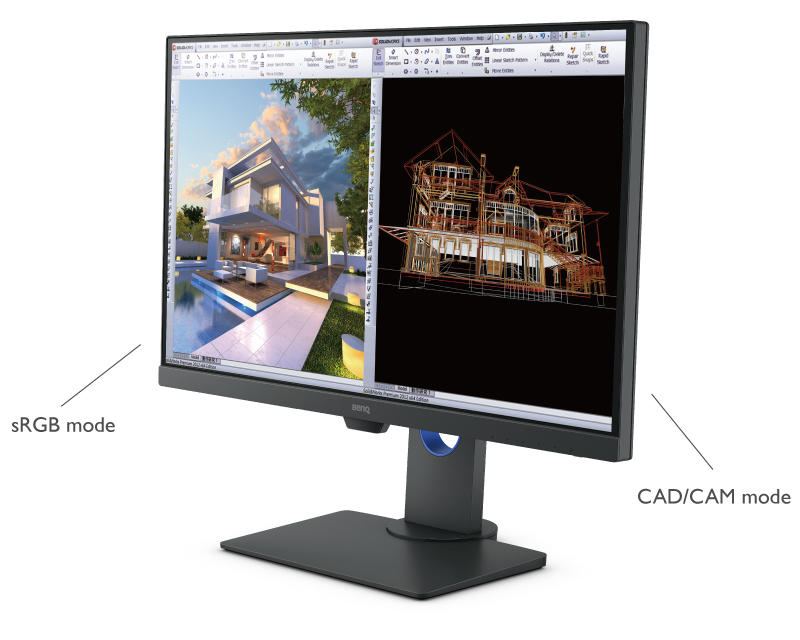 Industry-Leading eye-care™ Technology
BenQ exclusive eye-care™ technologies reduce eye fatigue for user comfort, enhanced productivity, and workplace safety during extended use.
Eliminate Eye Strain Any Time of Day
Brightness Intelligence Technology monitors ambient light in your viewing environment and actively adjusts screen brightness for the most comfortable viewing experience possible.

Low Blue Light Technology
Unique BenQ Low Blue Light Technology is designed to filter out harmful blue light, effectively diminishing eye fatigue and irritation.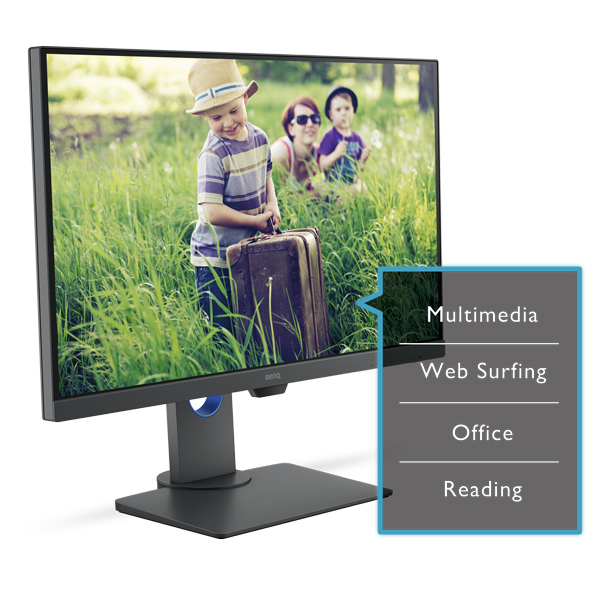 ZeroFlicker™ Technology
ZeroFlicker technology eliminates flickering at all brightness levels and effectively reduces eye fatigue. Conventional LCD screens flicker 200 times per second. Your eyes may not see flickers, but they can certainly feel them. Free your eyes from harmful flickers by switching to flicker-free monitors and let your eyes do less work for less eye strain.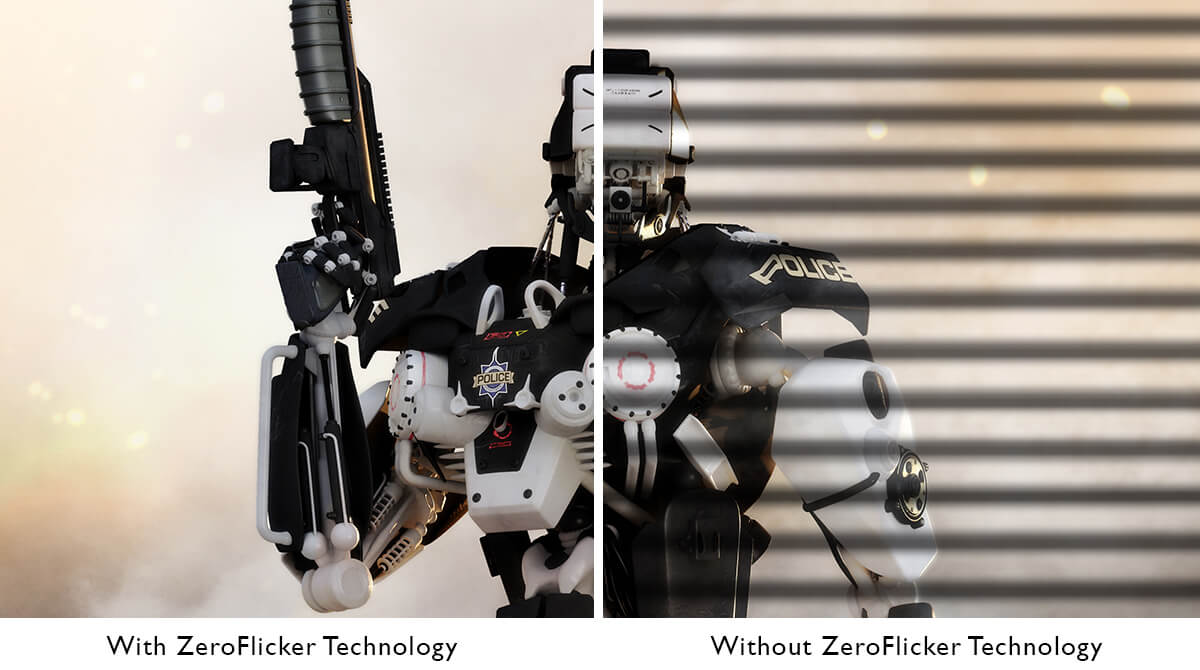 Specifications
Panel
Screen Size

27 inches

Panel Type

IPS

Backlight Technology

LED

Resolution (max.)

3840x2160

Brightness

350 cd/m²

Native Contrast
1300:1
Viewing Angle (L/R;U/D) (CR>=10)

178/178

Response Time

5ms (GtG)

Refresh Rate

60Hz

Aspect Ratio

16:9

Display Colors

16.7 M

Color Gamut

100% sRGB/Rec. 709

Display Area(mm)

596.74(H) x 335.66(V) mm

Pixel Pitch (mm)

0.27

PPI

93

DCR (Dynamic Contrast Ratio) (typ.)

20,000,000 : 1

Color Bit

10 bit

Audio
Headphone Jack

Yes

Built-in Speaker

2Wx2

Monitor
Product Color

Gray

Picture Mode

REC.709 / sRGB / HDR/CAD/CAM / Animation / Low Blue Light / Dark Room / User

Gamma

1.8 - 2.6

OSD Language

18 Languages - English, French, Deutsch, Italiano, Spanish, Polish, Czech, Hungarian, Korean, Romanian, Netherlands, Russian, Swedish, Portuguese, Japanese, Chinese (traditional), Chinese (simplified), Arabic

PIP/PBP

Yes

HDCP
2.2

VESA Wall Mount

100x100 mm
AMA
Yes

Display Screen Coating

Anti-Glare
Eye Care

Flicker-free Technology

Yes

Low Blue Light

Yes

Brightness Intelligence (B.I.)

Yes

Professional

Yes

Yes

Yes

DualView

Yes

Darkroom mode

Yes

Auto Pivot

Yes

Factory Calibration Report

Yes
Connectivity

Mini DisplayPort

MiniDisplayPort (v1.2)x1

DisplayPort

DisplayPort (v1.2) x1

HDMI

HDMI (v2.0) x1
DP out(MST)
USB Downstream x 4

USB 3.0 Hub

USB Upstream x 2
Power
Voltage Rating

100 - 240V

Power Supply

Built-in

Power Consumption (on mode)

80w

Power Consumption (stand by mode)

0.5W

Power Consumption (sleep mode)

0.5W
Power Consumption (based on Energy Star)
30W

Dimension and Weight

Dimensions (HxWxD mm)

H: 548.31 x 613.8 x 230.71 mm

L: 427.5 x 613.8 x 230.71 mm

Net Weight (kg)

7.7 Kg

9.9 Kg

Tilt (down/up)

-5˚ - 20˚
45˚/45˚
90˚

Height Adjustment (mm)

140 mm
Certification/Compliant/Environmental Standards

Windows® Compatible

Windows®10, Windows®8.1, Windows®8, Windows®7

Solidworks

Yes

TCO
7.0
Energy Star
7.0
EPEAT
Gold
Software

Yes
Warranty
BENQ AMERICA CORP. END USER LIMITED WARRANTY
LCD MONITORS


Subject to the terms and conditions set forth below, BenQ America Corp. ("BenQ") warrants the BenQ LCD Monitor ("Product"), you have purchased from BenQ or from a BenQ authorized reseller/retailer to be free from defects in materials or workmanship under normal consumer use during the warranty period in the continental United States, Hawaii, and Alaska. If the Product becomes defective during the warranty period BenQ will, at its option, repair or replace the Product. BenQ may use new or reconditioned components or parts to repair the Product, or replace the Product with a new or reconditioned Product of the same or functionally equivalent model.

BenQ LCD Monitor Standard Limited Warranty: Subject to the exclusions set forth below:
Three (3) year from the purchase date by the original retail purchaser (the "Customer") (except for refurbished units which have a separate warranty policy) parts and labor only (No advance replacement).
Return Merchandise Authorization Shipping: The Customer will pay shipping freight to BenQ or a BenQ Authorized Service Provider and BenQ will pay shipping freight to the Customer during the warranty period.
DOA (Dead On Arrival): Must be reported within thirty (30) days of purchase. An RMA number must be issued in order to process the replacement. BenQ will replace the DOA unit with a brand new replacement. BenQ will cover the freight charges both ways.
Shipping Damages: All shipping damages must be reported within seven (7) business days upon receipt of the Product. BenQ is not responsible for the shipping damages reported after such period.
Repaired or Replaced Parts and Products: All repaired or replaced parts or products shall be warranted only for the remainder of the original warranty period specified above.

Obtaining Depot Warranty Service
If you purchased a BenQ product in the continental United States, Hawaii, and Alaska, you are entitled to depot repair service during the warranty period subject to the following terms and conditions:
Depot warranty service is available for all Products purchased and located in the continental United States, Hawaii, and Alaska.

You must contact BenQ Technical Support Center at 1-866-600-2367.

BenQ or BenQ Technical Support Center will attempt to resolve technical issues over the phone. If telephone resolution is not possible, BenQ or BenQ Customer Service Center will then issue a Return Merchandise Authorization ("RMA") number to be used as a means of identifying the product returned. RMA authorization numbers are valid for thirty (30) days and void thereafter.

You must return the product to BenQ unless otherwise directed by BenQ to a BenQ Authorized Service Provider. You must prepay any shipping charges, export taxes, custom duties and taxes, or any charges associated with transportation of the BenQ product. In addition, you are responsible for insuring any Product shipped or returned and assume the risk of lost packages.

All returned Products must be accompanied with (i) the original shipping and packing materials, (ii) a description of the BenQ product symptom and (iii) proof of the place and date of purchase. The RMA number must be clearly printed on packing slip and on the exterior-shipping container. All Products must be sent in secured packaging to avoid any shipping damages.

BenQ and BenQ Authorized Service Provider reserve the right to refuse and return, freight collect, Products (i) that are not covered by BenQ's warranty; or (ii) for which there is no trouble found. Products delivered to BenQ or a BenQ Authorized Service Provider with an expired RMA may be refused and returned, without prior notice, to the Customer freight collect.

BenQ or BenQ Authorized Service Provider will use its best efforts to service Products within thirty (30) days after receipt of the Products at its warehouse facilities. For return shipments of the Products, except otherwise described herein, BenQ or BenQ Authorized Service Provider will pay the shipping cost and retain risk of loss until delivery to the Customer's location as evidenced by signature collected by carrier. The Customer may designate only one location within the continental United States, Hawaii, and Alaska for return shipments. BenQ and BenQ Authorized Service Provider are not responsible for shipping or other delays beyond their control.




Exclusions
This limited warranty does not extend to any Product not purchased from the BenQ authorized reseller. This limited warranty also does not extend to any product that has been damaged or rendered defective (a) due to normal wear and tear; (b) as a result of use of the Product other than for its normal intended use, or other misuse, abuse or negligence to the Product; (c) by the use of parts not manufactured or sold by BenQ; (d) by modification of the Product; (e) as a result of service by anyone other than BenQ or a BenQ Authorized Service Provider; (f) improper transportation or packing when returning the Product to BenQ or a BenQ Authorized Service Provider; (g) improper installation of third-party products; (h) improper environment (including improper temperature or humidity); (i) unusual physical or electrical stress or interference, failure
or fluctuation of electrical power, lightning, static electricity, fire, or acts of God. BenQ is not responsible for damage to or loss of any programs, data or removable storage media. You are responsible for saving (backing up) any programs, data or removable storage media.

Other Limitations
EXCEPT FOR THE WARRANTIES SET FORTH HEREIN, BenQ DISCLAIMS ALL OTHER WARRANTIES, EXPRESSED OR IMPLIED OR STATUTORY, INCLUDING BUT NOT LIMITED TO THE IMPLIED WARRANTIES OF MERCHANTABILITY OR FITNESS FOR A PARTICULAR PURPOSE. ANY IMPLIED WARRANTIES THAT MAY BE IMPOSED BY APPLICABLE LAW ARE LIMITED TO THE TERMS OF THIS LIMITED WARRANTY. IN NO EVENT SHALL BenQ BE LIABLE FOR ANY INDIRECT, INCIDENTAL, SPECIAL OR CONSEQUENTIAL DAMAGES OF ANY KIND, INCLUDING BUT NOT LIMITED TO LOSS OF BUSINESS, REVENUE, PROFITS, INFORMATION, DATA OR USE, WHETHER IN AN ACTION IN CONTRACT OR TORT OR BASED ON A WARRANTY, ARISING OUT OF OR IN CONNECTION WITH THE USE OR PERFORMANCE OF THE PRODUCT, EVEN IF BenQ HAS BEEN ADVISED OF THE POSSIBILITY OF SUCH DAMAGES. YOU AGREE THAT REPAIR OR REPLACEMENT, AS APPLICABLE, UNDER THE WARRANTY SERVICES DESCRIBED HEREIN IS YOUR SOLE AND EXCLUSIVE REMEDY WITH RESPECT TO ANY BREACH OF THE BenQ LIMITED WARRANTY SET FORTH HEREIN. IF, DESPITE THE FOREGOING LIMITATIONS, FOR ANY REASON BenQ BECOMES LIABLE TO YOU FOR DAMAGES INCURRED BY YOU IN CONNECTION WITH THIS AGREEMENT, THEN, THE LIABILITY OF BenQ WILL BE LIMITED TO THE AMOUNT EQUAL TO THE INVOICE AMOUNT PAID BY YOU TO BenQ OR A BenQ AUTHORIZED RESELLER FOR THE PRODUCT.
All prices, products, terms and conditions are subject to change without notice. Some states or provinces/jurisdictions do not allow the exclusion or limitation of incidental or consequential damages for consumer products, and some states or provinces/jurisdictions do not allow limitations on how long an implied warranty lasts. In such states or provinces/jurisdictions, the exclusions or limitations of this limited warranty may not apply to you. This limited warranty gives you specific legal rights. You may also have other rights that vary from state to state/jurisdiction to jurisdiction. You are advised to consult applicable state and provincial/local laws for a full determination of your rights.

Please call Technical Support Center to report a defective product.
Hours: M-F 8:30am – 5:30pm PST
Phone: 866-600-2367
To avoid delays, please DO NOT SEND ANY BenQ product to BenQ or BenQ Authorized Service Provider without BenQ's authorization.
Downloads
Accessories